Obama Not Alone in Unilaterally Halting Deportations—Some of His Congressional Critics Did It, Too
Wednesday, December 03, 2014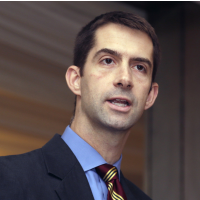 Senator-Elect Tom Cotton (photo: Danny Johnston, AP)
Republicans have been eager to blast President Barack Obama for going it alone on halting deportations for certain immigrants. But it turns out these lawmakers have also taken unilateral steps to keep certain immigrants from being deported by immigration officials.
Members of Congress can use what's called a "private bill" that states they want particular individuals to remain in the U.S. These bills typically never come up for a vote, but the fact that they have been filed and are pending in Congress causes the subjects' deportation to be deferred. Accordingly, Immigration and Customs Enforcement, in most cases, agrees to not take action against those people. Their deportation can be deferred indefinitely as long as the bill's sponsor refiles at the outset of the next Congress.
"The end result is that sponsor is unilaterally able to do much the same thing as the 'deferred action' [on deportation] granted by President Obama and his predecessors in both parties," wrote Josh Israel at ThinkProgress.
Among the lawmakers who have employed private bills to help immigrants facing deportation are those who have publicly criticized Obama for supposedly exceeding his constitutional authority with his immigration action. According to Israel, some of them include:
· Senator-Elect Tom Cotton (R-Arkansas), who attacked Obama for his "lawless actions," as a member of the House sponsored a bill to help a Sudanese woman, Meriam Yahya Ibrahim, and her two children, after Ibrahim was sentenced to death for apostasy after converting to Christianity.
· Representative Dana Rohrabacher (R-California), having characterized Obama's action as "a naked power grab," filed a bill to assist the Pakistani doctor, Shakil Afridi, who helped the U.S. in the hunt for Osama Bin Laden.
· Representative Pat Tiberi (R-Ohio), who accused Obama of pulling "the pin on the grenade" when he halted the deportations, filed a bill to prevent a Kenyan couple—John Cheruiyot Kemboi and Winnie Njeri Kemboi, whose son, a U.S. citizen, has health problems—from being deported.
· Representative Peter King (R-New York), who called Obama's action divisive and "unconstitutional," sponsored a bill on behalf of Alemseghed Mussie Tesfamical from Eritrea.
- Danny Biederman, Noel Brinkerhoff
To Learn More:
Congressmen Blasting Obama for Special Immigration Exceptions Have Made Special Immigration Exceptions (by Josh Israel, ThinkProgress)
Congressmen Who Oppose Immigration Reform Use Loophole To Keep Select Few In U.S. Without Visas (by Josh Israel, ThinkProgress)
Reagan and Bush Sr. Gave Amnesty to Immigrants without going through Congress, so What's Wrong with Obama Doing the Same? (by Noel Brinkerhoff, AllGov)
Obama Bypasses Congress to Halt Deportation of Children and Caregivers (by Noel Brinkerhoff, AllGov)