Trump's Elite Florida Club Favors Foreign Guest Workers over Hundreds of American Job Applicants
Friday, February 26, 2016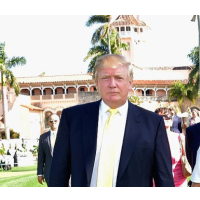 Donald Trump at his Mar-a-Lago Club (photo: Gustavo Caballero, Getty)
By Charles V. Bagli and Megan Twohey, New York Times
Donald Trump's Mar-a-Lago Club in Palm Beach, Florida, describes itself as "one of the most highly regarded private clubs in the world," and it is not just the very-well-to-do who want to get in.
Since 2010, nearly 300 U.S. residents have applied or been referred for jobs as waiters, waitresses, cooks and housekeepers there. But according to federal records, only 17 have been hired.
In all but a handful of cases, Mar-a-Lago sought to fill the jobs with hundreds of foreign guest workers from Romania and other countries.
In his quest for the Republican presidential nomination, Trump has stoked his crowds by promising to bring back jobs that have been snatched by illegal immigrants or outsourced by corporations, and voters worried about immigration have been his strongest backers.
But he has also pursued more than 500 visas for foreign workers at Mar-a-Lago since 2010, according to the U.S. Department of Labor, while hundreds of domestic applicants failed to get the same jobs.
The visas are issued through one of a handful of legal and often-debated programs through which employers can temporarily hire foreign workers when U.S. labor is not available. As part of its applications for the visas submitted to the Labor Department, Trump's Mar-a-Lago attested that in the vast majority of cases it was unable to fill the positions with American workers, or, as he told MSNBC's "Morning Joe" in September, "getting help in Palm Beach during the season is almost impossible."
Asked why his club must seek so many foreign workers when Americans have applied for the same positions, Trump said in a telephone interview from Mar-a-Lago this month: "The only reason they wouldn't get a callback is that they weren't qualified, for some reason. There are very few qualified people during the high season in the area."
Trump, who supports immigration done legally, drew a parallel with grape growers in California who need extra laborers during the harvest.
"I want to protect our borders," he said. "I also want to protect our businesses. They have to come in legally, and then they go back. Certain areas, in really successful areas, where we can't get help, many people do that. That's a good thing. Otherwise, you hurt your business."
From Florida resorts to Midwestern farms to Silicon Valley technology companies, the number of guest workers has been growing, even as labor advocates have accused employers of using the programs to replace U.S. workers with cheaper foreign labor. The Labor Department is investigating whether outsourcing companies hired by Disney used such a program to replace American employees who were qualified and already doing the jobs.
In Palm Beach County, Tom Veenstra, senior director of support services at CareerSource, a job placement service, took issue with Trump's contention that he could not staff his clubs with locals. "We have hundreds of qualified applicants for jobs like those," he said.
After a report by Reuters in July about Trump's use of guest workers, executives from Mar-a-Lago met with recruiters from Veenstra's agency, promising to request local workers for 50 positions.
But Mar-a-Lago sent over just a single job request, for a banquet server. Veenstra said CareerSource referred four applicants to the club and one of them got the job.
Since then, Veenstra said, "we haven't received any other job orders."
Other clubs in the Palm Beach area on Florida's east coast, including the Breakers, a well-known beachfront resort near Mar-a-Lago, also use guest workers. Industry experts say they can be attractive to employers because they are essentially a captive workforce.
The foreign employees must be paid the Labor Department-approved "prevailing wage" for the job and location. But they can work only for the company that sponsored the visa, and cannot, for instance, switch to another resort down the road where the pay is better without a new visa approval. A 2015 report by the Government Accountability Office found that guest workers' precarious position tends to discourage complaints about mistreatment by employees fearful of retaliation by the employer.
"You almost have them as indentured servants," said Danny Fontenot, director of the hospitality program at Palm Beach State College. "And they affect everyone else's wages. You can make a lot of money by never having to give your employees raises."
Greg Schell, a lawyer in Palm Beach County who has helped foreign guest workers sue employers over labor violations, said companies frequently made little effort to find local employees before applying for visas.
"I have seen no demonstrated need to import guest workers for the hospitality industry," Schell said. "Employers who want to find American workers find them."
For at least 15 years, according to the Labor Department, Trump's properties have requested guest-worker visas, including at Mar-a-Lago, the former estate of the cereal heiress Marjorie Merriweather Post, where the initiation fee alone is $100,000.
Housekeepers from abroad ensure that the venue's eight seaside cabanas are spotless, the Dorian stone from Genoa shines and the lavish guest rooms and suites in the main house, an 89-year-old mansion in the Hispano-Moresque style, are fresh for visitors.
Foreign workers prepare meals and serve them at the beachfront bistro or the main dining room, and deliver cocktails at wedding receptions in the elegant White & Gold Ballroom or the more recently built Donald J. Trump Ballroom. From October to May, tourism's high season in Palm Beach, Trump himself can often be found at the club on weekends.
He has also sought guest workers at Trump International Golf Club in West Palm Beach and Trump National golf club and spa in Jupiter, as well as at his vineyard in Virginia and golf clubs in New Jersey.
It is not clear how many visas were actually granted to Mar-a-Lago or other Trump properties. While the Labor Department certifies a company's need for visas, it is up to Homeland Security and the State Department to grant them, and those departments said they were unable to provide information on how many visas each employer had received. Trump and other resort owners use a type of visa, designated H-2B, for temporary, low-skill, nonfarm workers; there is a nationwide limit of 66,000 such visas a year.
Before it can be granted approval to hire foreign workers through H-2B visas, an employer has to advertise the openings on a state website of job listings and twice in a local newspaper, and to report the number of local applicants and hires to the federal government.
According to records Mar-a-Lago submitted to the Labor Department, it had received at least 296 local names for 520 seasonal jobs since 2010. Some applied directly to the club; others were referred through a job placement service.
Mar-a-Lago hired 17, about 6 percent of the local applicants, the records show.
For anyone not hired, the employer must tell the Labor Department why. Among the reasons Mar-a-Lago gave: that the applicants could not be reached or were not qualified, as Trump suggested in his recent interview; and that they did not want the jobs.
That was the case for Austin L. Cohen of Delray Beach, who got a call from Mar-a-Lago and a tour of the 20-acre resort after sending in his résumé for a wait staff position that paid $10.60 an hour for at least 30 hours a week.
Cohen said that he ultimately chose to keep looking for a permanent job, and that he wanted benefits; the job listing did not mention any.
"It was more like a temporary position," Cohen said. "You work six months and then you're out of work again. It was my decision not to take the job."
Some applicants said they decided against working at Mar-a-Lago because, like some other private clubs, it discourages gratuities; its job listings say "no tips." Local labor analysts say that private clubs often lose job candidates to restaurants where tipping is permitted.
But Renee L. Seymore, who applied to be a waitress at Mar-a-Lago last year, said she would have gladly taken the job, and thought her chances were good.
"They told me I had a great interview," recalled Seymore, 22, who had previously worked in a barbecue restaurant. "But I never heard anything back."
Mar-a-Lago did not respond to a question about why Seymore was passed over. The New York Times obtained the names of Cohen, Seymore and other applicants through Florida's open-records law, but the state-provided records did not give the reasons for not hiring particular candidates.
Several other applicants contacted by The Times had criminal records, but Mar-a-Lago did not state that as a reason for rejecting anyone.
To find foreign workers for his resorts, golf clubs and vineyard, Trump uses a recruiter based in upstate New York, Peter Petrina. Petrina, who declined to comment, is of Romanian descent and has an office in Romania, which has served as a de facto labor pool for many European countries.
Employers are obligated to pay for workers' transportation to the United States and any recruitment fees. The visas are valid for 10 months, although in some circumstances they can be extended to three years.
Petrina recruits for other U.S. employers, but highlights his connection to Trump in Romania, where newspaper articles say that he tries to recruit young people who take hospitality courses in college.
Local workers like Bonafacio Quevedo say they are being forced to compete with the imported workers. He said he was turned away from Trump International Golf Club when he applied in 2012, despite having previously worked as a waiter there and at Mar-a-Lago. Today he works full time at another club nearby.
"A lot of big establishments hire from foreign countries," he said. "But there are a lot of local people looking for work."
To Learn More:
Trump Anti-Immigrant Rhetoric Emboldens Hate Mongers (by Noel Brinkerhoff, AllGov)
Donald Trump Has a Plan for Deporting Millions of California Illegal Immigrants (by Ken Broder, AllGov California)