Trump Anti-Immigrant Rhetoric Emboldens Hate Mongers
Thursday, September 17, 2015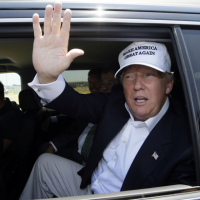 Donald Trump during a visit at the U.S.-Mexico border in Laredo, Texas (photo: LM Otero, AP)
Donald Trump's anti-immigrant talk on the campaign trail has brought the haters out from under their rocks.
One Trump supporter who attended a rally in Dallas, according to Politico, seized a microphone and said in Spanish then English: "The Mexicans are the hairs of ass–. Viva Donald Trump." She then directed her hate at one protester, saying "Clean my hotel room, b----."
Following a Trump rally in Mobile, Alabama last month, a supporter told AL.com, supposedly as a joke: "OK, you want to come to the border, $25 for a permit, you can shoot all the people you want that cross illegally."
In Boston, two brothers beat and urinated on a homeless Latino man last month. They said their actions were inspired by Trump. One brother reportedly told police: "Donald Trump was right, all these illegals need to be deported."
When informed of the brothers' actions, Trump said: "I will say that people who are following me are very passionate. They love this country and they want this country to be great again. They are passionate. I will say that, and everybody here has reported it."
Trump has attracted support from Tea Party members and has "won over nativists, winning the endorsement of a neo-Nazi news site, White nationalists, and a former Grand Wizard of the Ku Klux Klan," ThinkProgress reported.
"While Trump denies that he is racist and would no doubt disavow the support of white supremacist groups, his race-baiting, immigrant-bashing rhetoric has clearly struck a chord within their ranks. These predominantly white and male individuals and organizations— who sometimes call themselves 'white nationalists' or defenders of 'European American identity'—differ on some of the details, but are united in their belief that white people are under attack from the country's growing minority groups and an elite power structure that does those minorities' bidding," Daniel Marans and Kim Bellware wrote in The Huffington Post.
-Noel Brinkerhoff
To Learn More:
6 Times Trump Supporters Have Taken His Immigration Positions to the Extreme (by Esther Yu-Hsi Lee, ThinkProgress)
Meet The Members of Donald Trump's White Supremacist Fan Club (by Daniel Marans and Kim Bellware, Huffington Post)
Trump says Fans are 'Very Passionate' after Hearing One of Them Allegedly Assaulted Hispanic Man (by Justin Wm. Moyer, Washington Post)
Donald Trump Has a Plan for Deporting Millions of California Illegal Immigrants (by Ken Broder, AllGov California)