Trump's Appointed National Security Adviser Traffics in Clinton Conspiracy Theories
Tuesday, December 06, 2016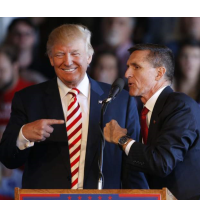 Donald Trump and Michael Flynn, both known for playing loose with truth (photo: Getty)
By Matthew Rosenberg, New York Times
WASHINGTON — For Lt. Gen. Michael T. Flynn, who is President-elect Donald Trump's choice for national security adviser, pushing conspiracy theories about Hillary Clinton is a family affair: Both he and his son, Michael G. Flynn, have used social media to spread fake news stories linking Clinton to underage sex rings and other serious crimes, backed by no evidence.
The Twitter habits of both men are attracting renewed attention after a man fired a rifle Sunday inside Comet Ping Pong, a Washington pizza restaurant that was the subject of false stories during the campaign tying it and the Clinton campaign to a child sex trafficking ring.
Well before he joined the Trump campaign, Michael T. Flynn, 57, a former director of the Defense Intelligence Agency, pushed unsubstantiated claims about Islamic law's spreading in the United States and about the attack on the U.S. diplomatic compound in Benghazi, Libya. But in his emergence this year as the angry former general out to help Trump clean up Washington, Flynn added wild stories about Clinton to his stock of unproven tales.
Six days before the election, for instance, Flynn posted on Twitter a fake news story that claimed police and prosecutors in New York had found evidence linking Clinton and much of her senior campaign staff to pedophilia, money laundering, perjury and other felonies.
"U decide," Flynn wrote in the Twitter message on Nov. 2, though it appeared there was little doubt what he thought.
The views Flynn has aired on social media, including messages that many viewed as crossing the line into Islamophobia, and his willingness to spread fake news stories had already prompted questions about his fitness to be Trump's national security adviser.
But the gunfire Sunday was a violent turn in the debate about how fake news is reshaping the United States, and it cast a spotlight on those like Flynn who actively spread false stories about Clinton.
The hoax about the child sex trafficking ring began spreading shortly before the election, and the restaurant, its employees and nearby businesses soon found themselves subjected to threats and harassment because of it, despite a complete absence of evidence.
Then on Sunday, Edgar M. Welch, 28, of Salisbury, North Carolina, went to Comet Ping Pong in northwestern Washington armed with a rifle. Police said he told them later that he had gone to the restaurant to "self-investigate" the sex trafficking hoax.
Welch's violent reaction to the hoax did not appear to faze Michael G. Flynn: On Sunday, hours after the gunfire, he went on Twitter to say that until "Pizzagate" was proved false, it remained a story.
Michael G. Flynn, 33, is more than just a relative of an incoming senior administration official. In recent years, he has served as chief of staff to his father, who started a private intelligence and consulting business, the Flynn Intel Group, after being forced to retire from the military in 2014.
Throughout the campaign, Michael G. Flynn served as a gatekeeper for his father, and he now appears to have a job with the Trump transition team. Email sent to an address at the Flynn Intel Group returned with an automated response that provided a new email contact for both Flynns, and each had a Trump transition email address that ended with .gov.
The main difference in the son's Twitter feed is that he appears to have shown even less restraint than his father when it comes to spreading conspiracy theories about Clinton and her campaign.
He used Twitter to spread others' suggestions that Clinton and President Barack Obama were "at the center" of the conflict in Syria and profiting from it and that both would be tried for treason if Trump was elected. He shared a fake news story that claimed hackers had found video evidence that President Bill Clinton had raped a teenage girl.
And in a Twitter message that he deleted after CNN found it in November, he questioned what was wrong with dating websites that were only for white people, saying black Americans have BET, a television network that caters largely to black viewers.
Since Sunday's gunfire at Comet Ping Pong, Michael G. Flynn has also continued to retweet messages that say the news media has sought to normalize pedophilia.
His father, by contrast, has kept a lower profile since the election. He has not given interviews — he did not respond to requests for comment Monday — and he has kept his Twitter postings relatively tame, publishing patriotic messages on Veterans Day and more recently praising Trump's selection of Gen. James N. Mattis, a retired Marine, as defense secretary.
His role as national security adviser calls for mediating the conflicting views of Cabinet secretaries and agencies, and sifting fact from speculation and rumor to help the new president decide how the United States should react to international crises.
It is a role that is likely to take on outsize importance for Trump, who has no experience in defense or foreign policy issues and has a habit of making broad assertions that are not based in fact.
Michael T. Flynn, though, has shown similar inclinations on Twitter and in regular life. His sometimes dubious assertions became so familiar to subordinates at the Defense Intelligence Agency that they came up with a name for the phenomenon: They called them "Flynn facts."
To Learn More:
Concern over Militarization of U.S. Policy Arises from Trump's Ceding Civilian Leadership Posts to Generals (by Lolita C. Baldor, AllGov)
Rollout of Fake News Traced to Money-Hungry Teens in Macedonia Town (by Zana Cimili and Raphael Satter, Associated Press)
Trump's Focus on Generals for Top Posts Elicits Foreign Policy Concerns (by Mark Landler and Helene Cooper, New York Times)
National Security Advisor: Who Is Michael Flynn? (by Matt Bewig, AllGov)
Rise in Social Media's Power Reveals Growing Threat to Democracy: Fake News (by Jim Rutenberg, New York Times)
Truth Viewed as Victim, Not Beneficiary, of the Internet (by Farhad Manjoo, New York Times)