To Bar Abortion, Alabama Appoints Lawyer for Fetus, Strips Incarcerated Mother of Parental Rights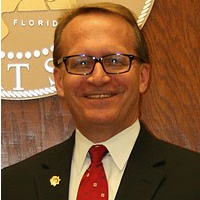 Chris Connolly (photo: Lauderdale County DA's Office)
Abortion opponents in Alabama are trying to use a juvenile court case to strip a woman's right to choose what to do about an unwanted pregnancy by granting legal rights to a fetus.
A Lauderdale County prison inmate identified as Jane Doe has sought permission to travel to a clinic to abort her pregnancy, which occurred before she was locked up.
The local district attorney, Chris Connolly, is fighting the request and has even gone so far as to ask the juvenile court hearing the case to strip Doe of her parental rights, which would legally bar her from ending her pregnancy.
The court has appointed a lawyer (a guardian ad litem) to represent the woman's fetus.
Doe has asked a federal judge to allow her to obtain an abortion. Doe's counsel, provided by the American Civil Liberties Union, says to deny his client's right to an abortion amounts to cruel and unusual punishment. "It appears to me that what the state is attempting to do is turn Jane Doe into a vessel, and control every aspect of her life, forcing her to give birth to a baby, which she has decided she does not want to do," Randall Marshall, one of Doe's attorneys, told the Huffington Post. "The case has certainly moved to this new dimension, but welcome to Alabama."
Marshall also told AL.com: "From a legal standpoint, it seems like nonsense."
"Does the guardian ad litem say what food she eats, what vitamins she takes, what exercise she does and every other decision regarding the fetus?"
A federal judge is expected to rule today on whether Doe may have an abortion.
-Noel Brinkerhoff
To Learn More:
Alabama Seeks To Deny Woman Abortion By Stripping Her Parental Rights, Appointing Lawyer For Fetus (by Tara Culp-Ressler, ThinkProgress)
Alabama DA Seeks To End Parental Rights of Inmate Wanting Abortion (by Steve Doyle, AL.com)
Lawsuits Filed to Overturn Alabama's New "Radical" Abortion Law (by Steve Straehley, AllGov)