Lawsuits Filed to Overturn Alabama's New "Radical" Abortion Law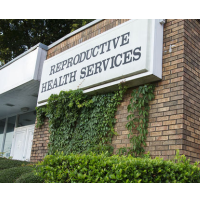 (photo: Brynn Anderson, AP)
A women's health center in Montgomery, Alabama, is suing to overturn a law that throws roadblocks in the way of minors who want to get an abortion without asking their parents for permission.
The law (pdf), which the state passed earlier this year, requires those seeking "judicial bypass" for an abortion to present evidence justifying the abortion and proving her maturity, according to the Montgomery Advertiser.
"The young women who choose not to tell a parent do so for a number of good reasons, including fear of abuse or abandonment, or because they don't live with their parents," according to Physicians for Reproductive Health. "When the state interferes with minors' decisions about abortion or birth control, it forces the teen to choose a parent over another trusted adult who might be better suited to support her."
The law also charges the district attorney to investigate the case, bringing in witnesses such as family members, boyfriends and teachers to testify as to the teen's fitness to decide whether to terminate her pregnancy.
"This law aims to shame a young woman into not having an abortion," Susan Watson, executive director of the ACLU of Alabama which is handling the suit for Reproductive Health Services (RHS), said in a statement. "Why should she be put on trial and treated like a criminal for a constitutionally protected procedure?"
Not only does the new law pit a pregnant teen against the state of Alabama's legal system, but even if the girl wins her case, the state is allowed to appeal. Thus, the case will be dragged out to the point where an abortion could present more complications or even be unavailable. Of course, that might be what Alabama's legislators are counting on.
"Most if not all of (RHS') minor patients lack the financial resources and capacity to travel to a distant abortion provider who performs abortions later in gestation," the suit said. "The next-closest provider of abortions after 14 weeks is in Tuscaloosa, a more than 200-mile round-trip journey."
Thirty-eight states reportedly require parents to have a role in their teenagers' decision about whether or not to have an abortion. In three of those states, both parents are required to give their consent for their teen's abortion.
These laws are opposed by medical experts, according to ThinkProgress, who cite research showing that the majority of adolescents already consult their parents about pregnancy and abortion issues.
-Steve Straehley
To Learn More:
Lawsuit: AL Statute Intimidates Minors Seeking Abortions (by Brian Lyman, Montgomery Advertiser)
Alabama's Abortion Law Puts Minors On Trial And Gives Their Fetuses A Lawyer (by Tara Culp-Ressler, ThinkProgress)
Republican State Legislators Pass 40 Laws Restricting Abortion in First Half of 2013 (by Matt Bewig, AllGov)
Last Few Alabama Abortion Clinics May Close under New State Law (by Noel Brinkerhoff, AllGov)