The Little Known World of Private Prison Transport: Escapes, Rapes, and Death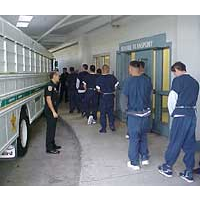 (photo: Palm Beach Country Sheriff's Office)
With a record number of prisoners in the United States, it figures that there would be a lot of prisoners who need moving between one facility and another. Much of this has been outsourced to the lowest bidder, with predictable consequences for those unfortunate enough to be forced to ride the low-rent version of Con-Air.
A woman died while being moved by a private prisoner transport service from Kentucky to Florida for a probation violation, according to the Miami Herald. Denise Isaacs had stolen $1,200 of merchandise from a Walmart in South Florida in 2012. She was sentenced to community service and eventually moved to Kentucky. When it was discovered that she had yet to complete her service and owed $607.98 in fines, she was ordered returned to Charlotte County, Florida.
While jailed in Kentucky awaiting transfer, Isaacs suffered hallucinations and said she hadn't been given her psychiatric medication. She was put in a van operated by Prisoner Transportation Services of America along with other inmates for the trip south. Along the way, Isaacs was said to be acting strangely, refusing food and drinking little water. During a meal stop near Miami, Isaacs was found to be unconscious. Transport officers first called their supervisors then later called for medical help, which came too late to save Isaacs.
Prisoner Transportation Services claims to be the "nation's largest prisoner extradition company," moving more than 10,000 detainees annually for law enforcement agencies. But the death of Isaacs wasn't the first problem it has ever experienced. In 2013, the company's transport officers left their van unattended with the motor running, allowing eight prisoners to break through a partition and drive away. The prisoners were later recaptured. Additional prisoner escapes date back to 2009, including the disappearance of high-profile inmates from the company's security vehicle.
That same year, personnel working for another transport outfit, Court Services Incorporated, reportedly engaged in kidnapping and prisoner abuse. During a transfer of inmates from Tennessee to New Mexico, one of the company's drivers, Albert Long, took his male prisoners to the local jail but held onto the single female prisoner. Over the course of several days, he twice took her to motels where he forced her to perform sexual acts on him. Long intended to do this a third time, but he was found out by an Arkansas jail official. Long, who had two prior felony convictions, pleaded guilty to several federal charges.
There have been other incidents of transport officers sexually assaulting and raping their prisoners, and threatening them with a gun to keep them quiet.
The lack of safety standards for prisoner transport has led to other disasters, such as prisoners being burned alive in worn-out vehicles that have caught fire. Untrained guards can also be at risk, as there have been incidents in which drivers have been held hostage by prisoners.
Between 1994 and 2000, nearly 40 escapes occurred from private prisoner transport vehicles, according to an investigation conducted by Mother Jones. By comparison, the U.S. Marshals Service, which handles twice as many inmates as the private firms, had no escapes.
Meanwhile, the for-profit corrections business continues to grow.
-Steve Straehley, Danny Biederman
To Learn More:
Woman Arrested For Probation Violation Dies In Private Prison Transport Van (by Nicole Flatow, ThinkProgress)
Inmate Death in Private Transport Van in Miami-Dade Raises Questions (by David Ovalle, Miami Herald)
Private Transportation Firms Take Prisoners for a Ride (by Alex Friedmann, Prison Legal News)
Creeped Out Yet? Private Prison Transports Roaming Around U.S. (Daily Kos)
Private Prisons Punish States for not Having Enough Prisoners (by Matt Bewig, AllGov)
New York Bus Drivers Forced by Police to Transport Arrested Wall Street Protestors (by Noel Brinkerhoff and David Wallechinsky, AllGov)