Texas Supreme Court Sides with Cheerleaders' Desire to Put Bible Quotes on School Football Game Banners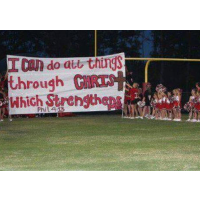 Bible banner displayed at a Kountze school football game (photo: Getty Images)
By Jon Herskovitz
AUSTIN, Texas (Reuters) - The Texas Supreme Court on Friday sided with a group of school cheerleaders and their parents who are seeking to have a lower court give them the right to put religious messages and biblical quotes on banners at football games.
The decision did not grant the right to display the messages but sent the case to an appeals court that had previously said there was no need to rule because the school district already allowed the messages on the so-called "Bible banners."
The banners have been displayed as football teams took to the field in the east Texas town of Kountze.
"The District no longer prohibits the cheerleaders from displaying religious signs or messages on banners at school-sponsored events. But that change hardly makes 'absolutely clear' that the District will not reverse itself after this litigation is concluded," the high court said.
The case started about three years ago and became a focal point at the time in the debate over a school's role in promoting religion. The Supreme Court did not decide if the Bible banners should be considered private speech or government speech.
The Republican leaders of Texas, who have stood by the cheerleaders, saw the court's decision as a victory for religious freedom while the group that brought the initial complaint over the banners to the school district saw the court's decision as narrow and limited.
"I'm pleased the Texas Supreme Court has ensured that the Kountze cheerleaders will be able to continue defending their right to express their faith – the most fundamental of American freedoms," Texas Attorney General Ken Paxton said in a statement.
The Freedom From Religion Foundation, which brought the complaint, said it sees the banners as violating the First Amendment of the U.S. Constitution regarding government prohibitions on establishing religion.
"They (the banners) signal to students and members of the community who are non-Christian that they are outsiders," said Patrick Elliott, a lawyer with the foundation.
To Learn More:
Texas Approves Controversial School Textbooks Still Laced with Ideologically-Driven Inaccuracies (by Noel Brinkerhoff, AllGov)
Pismo Beach Sued over Christian Prayers at City Meetings (by Ken Broder, AllGov California)
Christian Prayers at City Council Meetings Supported by Obama Administration before Supreme Court (by Noel Brinkerhoff, AllGov)