Texas Approves Controversial School Textbooks Still Laced with Ideologically-Driven Inaccuracies
Thursday, November 27, 2014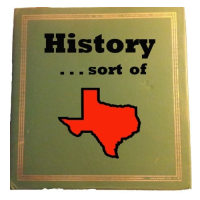 (graphic: Steve Straehley, AllGov)
Conservatives in Texas have approved the use of school textbooks containing historical inaccuracies promoted by right-wing Christians.
The State Board of Education voted 10-5, with only the board's Democratic members in opposition, to authorize new history books for Texas students. Inside the controversial texts are "factual inaccuracies and exaggerations of Moses' impact on the founding of the U.S.," according to the Austin Chronicle.
Before some revisions were made, the books were even worse. They contained a cartoon mocking affirmative action recipients, de-emphasis of slavery's role in the Civil War, negative stereotypes of Muslims, and denials of climate change.
Other inaccuracies and omissions in the books included misstating the separate roles of church and state; ignoring problems with a free enterprise system and the U.S. government's role in the economy; a lack of attention to Native American history; and acceptance of "states' rights" arguments and a distorted picture of the role of slavery in the South.
Board member Marisa Perez, who voted against the plan, said she was not proud of the board's decision, which relied too much on a "screwy" process involving textbook publishers.
The Texas Freedom Network, which keeps tabs on the SBOE, called the process for adopting the new books a "sham."
"This board adopted textbooks with numerous late changes that the public had little opportunity to review and comment on and that even board members themselves admitted they had not read. They can't honestly say they know what's in these textbooks, which could be in classrooms for a decade," Kathy Miller, the group's president, said in a press release.
At one point in the process, a conservative think tank, the Thomas B. Fordham Institute, called the changes "unteachable hodgepodge" and a "politicized distortion of history," the Chronicle reported.
-Noel Brinkerhoff
To Learn More:
Despite 'Flawed' Process, SBOE Votes for Social Studies Textbooks (by Mary Tuma, Austin Chronicle)
Panel Finds 'Serious Flaws' in SBOE-Backed Social Studies Textbooks (by Mary Tuma, Austin Chronicle)
Writing to the Standards: Reviews of Proposed Social Studies Textbooks for Texas Public Schools (Texas Freedom Network Education Fund) (pdf)
Racist Views of Blacks and Jews Taught in Texas Public School Bible Classes (by Noel Brinkerhoff and David Wallechinsky, AllGov)
Texas Board of Education Attacks Non-Existent Pro-Islamic Textbooks (by Noel Brinkerhoff, AllGov)