Is the Electoral College Distorting Obama Policy?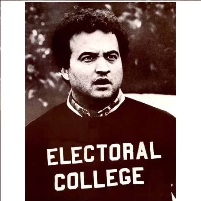 In another demonstration of President Barack Obama's preference for the tried-and-true ways of Washington, the new president has focused his domestic travel so far on those states that are likely to be battlegrounds in the 2012 election. Of the 16 states Obama has visited, all of them are so-called "swing states" where the margin of results between the Democrat and his GOP rival John McCain was less than 5% in 2008. And nine of these states went to Obama after voting for George W. Bush in 2004, including Ohio, North Carolina, Indiana and Florida.
FairVote
, an organization that seeks electoral reform, argues the current reliance on the Electoral College distorts the political process and results in many Americans being ignored by the president. "With every passing election cycle, the inherent unfairness of the Electoral College becomes more and more apparent," according to the FairVote website. "Voters in a handful of states have an exclusive claim to political relevance, while a vast – and growing – majority of Americans sit on the sidelines."
FairVote points out that neither Obama nor McCain visited 32 of the 50 states in the last two months of the 2008 campaign—even though they're home to 62% of the American population.
-Noel Brinkerhoff