Majority of Texas Abortion Clinics Promptly Close as Federal Court Backs Sweeping State Law
Saturday, October 04, 2014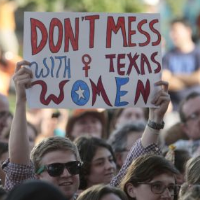 (photo: Billy Smith II, AP)
The nation's second most populous state lost more than half of its abortion clinics overnight after a federal appeals court upheld one of the toughest anti-abortion laws in the country.
A three-judge panel on the Fifth Circuit Court of Appeals ruled (pdf) a Texas law addressing clinic operational standards was constitutional, despite complaints from reproductive rights advocates that it would force the closure of numerous facilities and force large numbers of women to travel unreasonable distances for abortion services.
Following the decision, 13 clinics abruptly closed their doors, leaving only eight still in operation. But those eight are concentrated in Houston, Austin, San Antonio and the Dallas-Fort Worth area, The New York Times reported, leaving large segments of Texas' 5.4 million female population of reproductive age without any nearby clinic. A clinic in El Paso, in the westernmost part of the state, may be able to reopen because the court exempted it from some of the law's requirements.
Courts have ruled that the law can be stayed only if it presents a "substantial obstacle" to a "large fraction" of the population. About one in six Texas women will be affected by the draconian restrictions on reproductive health. However, the court declared "This is nowhere near a 'large fraction.'"
The closures were prompted by the law's new requirements that abortion clinics meet the same staffing, building and equipment regulations as surgical centers. Clinic defenders insisted the new standards were unnecessary and represented a veiled effort by conservatives to deny women the choice of aborting pregnancies.
Nancy Northup, president and chief executive of the Center for Reproductive Rights, which helped challenge the law in court, said in a statement that the "ruling has gutted Texas women's constitutional rights and access to critical reproductive health care, and stands to make safe, legal abortion essentially disappear overnight."
She added: "It is an endorsement of politicians' disingenuous tactic of undermining women's safety under the false pretext of protecting it, and of their unconstitutional intrusions into the personal, private decisions of every woman and family facing an unintended pregnancy."
Opponents plan to continue fighting the law in court, either by petitioning the entire Fifth Circuit to review the ruling or asking the U.S. Supreme Court to hear the case.
The Times' Manny Fernandez wrote that the "panel's decision was only temporary and left open the possibility that the clinics could reopen as the case proceeds."
-Noel Brinkerhoff
To Learn More:
Decision Allows Abortion Law, Forcing 13 Texas Clinics to Close (by Manny Fernandez, New York Times)
Appeals Panel Upholds Texas Abortion Law (by Tony Mauro, National Law Journal)
Ginsburg Faulted for Comment on Texas Abortion Law (by Tony Mauro, National Law Journal)
Whole Women's Health v. David Lakey, M.D. (U.S. Court of Appeals for the Fifth Circuit) (pdf)
Republican State Legislators Pass 40 Laws Restricting Abortion in First Half of 2013 (by Matt Bewig, AllGov)
Family Planning Budget Cuts in Texas Lead to Increase in Poor Women having Babies (by Noel Brinkerhoff, AllGov)