Tennessee Groups Sue TVA over Dumping of Toxic Waste in Unlined Ash Ponds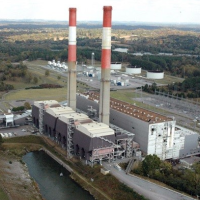 Gallatin Power Plant (photo: Tennessee Valley Authority)
Two environmental groups have sued the Tennessee Valley Authority (TVA) for allowing toxic coal ash to contaminate local water supplies through the use of unlined ponds.
Tennessee Clean Water Network and Tennessee Scenic Rivers Association, say the TVA has for the past 60 years dumped coal ash in unlined ponds near its Gallatin, Tennessee, electric plant. The 2.5 billion gallons of ash, which contains heavy metals such as arsenic, mercury and lead, is endangering nearby aquifers in violation of the federal Clean Water Act.
"TVA has allowed the very pollutants that the coal ash ponds were supposed to treat and remove to enter the groundwater and nearby surface waters, including the Cumberland River, directly and through hydrologic connections in the groundwater, all in violation of the [National Pollutant Discharge Elimination System] Permit and/or the Clean Water Act," the complaint states.
The coal plant in question has been operating since the late 1950s. It burns 4 million tons of coal annually, producing about 235,000 tons of coal ash, according to the complaint.
The lawsuit claims TVA hasn't addressed the problem even though the Environmental Protection Agency (EPA) found the ponds could constitute a significant hazard in the event a nearby dam fails.
"TVA has not cured all of the deficiencies identified by EPA, and continues to operate with dangerous structural conditions, ongoing contamination of groundwater and the Cumberland River, and seeps that leak pollutants from the coal ash ponds directly into the groundwater and the Cumberland River," according to the complaint.
-Noel Brinkerhoff, Steve Straehley
To Learn More:
TVA Sued Over Tennessee Coal Ash Ponds (by Kevin Lessmiller, Courthouse News Service)
Environmental Groups Sue TVA over Gallatin Plant Pollution (by Travis Loller, Associated Press)
Kingston, Tenn.: First It's a Coal Ash Spill, Now it's Lions and Tigers (by Matt Bewig, AllGov)
TVA Failed to Investigate Practices That Led to Kingston Spill (by Noel Brinkerhoff, AllGov)