Kingston, Tenn.: First It's a Coal Ash Spill, Now it's Lions and Tigers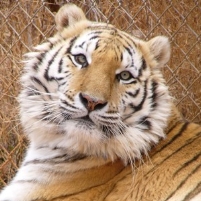 A Tiger Haven resident named Diamond (photo: Tiger Haven)
Just three years after Kingston, Tennessee, (pop.: 5,934) suffered through a massive spill of up to 5.4 million cubic yards of toxic coal waste from earthen dams and holding ponds at a local
TVA
facility, some residents are complaining about a different form of toxic runoff: big cat feces and urine.
In 1991, Joe and Mary Lynn Parker went to the Roane County Board of Commissioners to let them know they would be keeping a tiger on the nine-acre property they had recently purchased, which was zoned A-1, for general agricultural use. The Board responded by passing a new zoning ordinance that created a new classification, A-2, for special agricultural uses that may pose health or safety dangers. Keeping big cats like tigers was permissible either way, and the Parkers proceeded to expand their property, which they call
Tiger Haven
, into a fifty-acre sanctuary housing more than 250 tigers, lions, leopards and cougars, as well as about thirteen servals, caracals and bobcats. Tiger Haven rescues big cats that have been neglected or abused, hearing about them from regulatory agencies and other institutions like the Humane Society or SPCA.
Tiger Haven's neighbors have been unhappy with the situation for years, although a legal action to shut down Tiger Haven, filed by the
Roane County Commission
in 1997, was denied by the Tennessee Court of Appeals in 2002.
In June 2011, several neighbors filed a lawsuit, alleging that Tiger Haven has been operated as a "nuisance," preventing them from enjoying their property because of "an ongoing increase in noise level, odor, waste and water runoff from a point source that includes but is not limited to urine, feces, bacteria and other contaminates, all of which threaten the life and property of the plaintiffs and the environment as a whole." They also complain that the big cats' roars frighten their animals, that they do not feel safe and that the mere presence of Tiger Haven has harmed the value of their property.
These neighbors may run into rough sledding on their case, however, as the
Tennessee Wildlife Resources Agency
(TWRA), which regulates facilities like Tiger Haven, has inspected it more than fifty times since 1991, finding no causes of concern, leading Walter Cook, TWRA's captive wildlife coordinator, to
state
that "We don't have any problems at all with them complying with any of our requests." The area water has also been tested, as recently as spring 2009 after the facility's 2005 expansion, and no contamination was found.
-Matt Bewig
To Learn More:
Board of Commissioners of Roane County v. Joe Parker, et al. (Tennessee Court of Appeals, 2002) (pdf)