Tennessee Arrests Mother for Taking Meth while Pregnant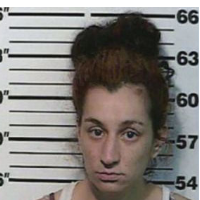 Mallory Loyola (photo: Monroe County Sheriff's Office)
The state of Tennessee has made its first arrest under a law (pdf) that makes it a crime for mothers to potentially harm fetuses by using drugs.
Mallory Loyola gave birth July 6 to a baby girl at the University of Tennessee Medical Center. She was arrested two days later when it was found that there was methamphetamine in her system while she was pregnant, and Loyola admitted to smoking meth a few days before giving birth.
Because of the way the law was written, however, it might not apply in Loyola's case. According to the statute: "a woman may be prosecuted for an assaultive offense for the illegal use of a narcotic drug while pregnant, if her child is born addicted to or harmed by the narcotic drug and the addiction or harm is a result of her illegal use of a narcotic drug taken while pregnant."
Methamphetamine, while an addictive drug, is not classified as a narcotic. Furthermore, there's no evidence that Loyola's baby was born addicted to drugs or harmed by Loyola's drug use.
"This law was sold as if it were just about illegal narcotics. But sure enough, the first case has nothing to do with illegal narcotics—and nothing actually to do with harm to anybody," Lynn Paltrow, the executive director of National Advocates for Pregnant Women, which opposes laws that criminalize drug use during pregnancy, told ThinkProgress. "There's no injury. There's just a positive drug test."
Most medical organizations oppose laws such as Tennessee's, since they make it less likely that a mother will seek help for a drug problem and that they may forgo medical treatment to avoid arrest. "We are already receiving reports of women seeking out non-licensed health providers to avoid having a medical record and risking arrest. This is extremely dangerous," said Rebecca Terrell, the chair of Healthy and Free Tennessee, which opposed the law.
The law is also being seen as a violation of mothers' civil rights. "This view of pregnant women essentially means that as soon as you're carrying a fertilized egg, you've lost your medical privacy and your right to make medical decisions," Paltrow said. "But all matters concerning pregnancy are health care matters. Pregnancy, like other health issues, should be addressed through the public health system and not through the criminal punishment system or the civil child welfare system."
-Steve Straehley
To Learn More:
Tennessee Arrests First Mother Under Its New Pregnancy Criminalization Law (by Tara Culp-Ressler, Think Progress)
$2,000 Bond Set For East Tenn. Mom Charged Under New Law (by Evan Johnson, WBIR)
Charged with Murder for Taking Cocaine or Trying Suicide While Pregnant (by Noel Brinkerhoff, AllGov)