Delays and Mismanagement of GM Recall Repairs Result in More Motorist Deaths
Wednesday, November 05, 2014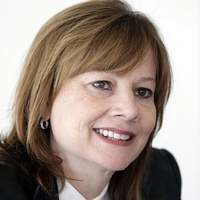 General Motors CEO Mary Barra (photo: Carlos Osorio, AP)
General Motors has yet to fix more than a million cars recalled for faulty ignition switches that can result in deadly accidents and fatalities linked to the problem continue to surface.
More than 30 people have died in GM vehicles that had the bad switches, which can shut off unexpectedly and lead to a loss of power to the car. Last month, a New York woman, Brittany Alfarone, was killed in a single-car accident involving a 2006 Chevrolet Cobalt, according to The New York Times.
The victim's mother, Dierdre Betancourt, told the newspaper that her daughter had tried to get her car's ignition fixed, but was turned away by two dealerships, the second of which said the car had already been repaired. Other GM owners have reported similar problems when presenting their vehicles for service.
Betancourt said the Cobalt had experienced a loss of power a few weeks before the fatal accident when it hit a bump in the road, but Alfarone was able to recover. Police in Yonkers, N.Y., are still investigating the cause of the wreck that killed Alfarone, 25.
GM has repaired about half of the 2.36 million automobiles recalled for the switches. Owners have had to wait months to get into dealerships for repairs, leaving them vulnerable to accidents like the one that killed Alfarone. GM claims loaner cars are available for drivers waiting to have their cars repaired, but there are far fewer loaners available than needed.
GM blames the slow repair rate partly on owners. "People are very busy, and it can be a challenge to find the time to take their vehicle in to be repaired," GM spokesman James R. Cain told the Times. But other dealers have been so swamped with repair requests that they've even canceled all other repair work for a day to take care of ignition switches.
And even getting cars in for service isn't always enough. At least 43 owners have complained to the National Highway Traffic Safety Administration of continued problems after the fix was made.
-Noel Brinkerhoff, Steve Straehley
To Learn More:
Recalled G.M. Cars Remain Unrepaired (by Hilary Stout and Rebecca R. Ruiz, New York Times)
GM Ignition Switch Confirmed Death Toll Rises to 19 (by Noel Brinkerhoff, AllGov)
General Motors Orders 30th Recall of the Year (and it's only May) (by Noel Brinkerhoff and Danny Biederman, AllGov)