Study Suggests Connection between Fracking and Indoor Exposure to Lung Cancer-Causing Radon Gas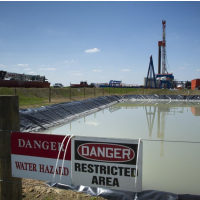 Fracking site near Waynesburg, Pennsylvania (photo: Mladen Antonov, AFP/Getty Images)
In addition to being a source of groundwater pollution and causing earthquakes, fracking may in some areas increase exposure to radioactive gas, a new study shows.
Researchers at Johns Hopkins Bloomberg School of Public Health say they found increased levels of radon, a cancer-causing radioactive gas, in Pennsylvania homes since 2004.
The time period coincides with the rise of hydraulic fracturing in the state, although the paper published in the journal Environmental Health Perspectives avoided making a direct connection between the higher radon levels and the drilling. However, the lead researcher also did not rule out a correlation between the two.
"We're not convinced this industry is playing a role [in increased radon levels]," Brian Schwartz told ThinkProgress. "All we're saying is these findings provide no reassurance that the industry is not playing a role."
The research showed that buildings hooked up to well water had a 21% higher radon concentration than those connected to municipal supplies. In addition, buildings in townships, where there is more fracking, had 39% higher concentrations of the gas than those in cities.
Emily Atkin at ThinkProgress noted that about 40% of Pennsylvania homes may have radon levels above the recommended limits, according to the state Department of Environmental Protection.
The state's primary target of fracking, the Marcellus Shale, contains 20 times more naturally occurring radioactive material than typical shale formations.
-Noel Brinkerhoff
To Learn More:
Predictors of Indoor Radon Concentrations in Pennsylvania, 1989–2013 (by Joan A. Casey, Elizabeth L. Ogburn, Sara G. Rasmussen, Jennifer K. Irving, Jonathan Pollak, Paul A. Locke, and Brian S. Schwartz, Environmental Health Perspectives) (pdf)
Scientists Link Pennsylvania's Fracking Boom To Increased Radioactive Gas In Homes (by Emily Atkin, ClimateProgress)
Study Suggests Fracking Could Release Radon From Ground (by Liz Szabo and Doyle Rice, USA Today)
Pennsylvania Finally Releases List of 243 Cases of Water Contaminated by Oil and Gas Drilling (by Steve Straehley, AllGov)
Internal EPA Report Conflicts with Agency's Stance on Fracking Contamination in Pennsylvania Town (by Noel Brinkerhoff, AllGov)