Pennsylvania Finally Releases List of 243 Cases of Water Contaminated by Oil and Gas Drilling
Monday, September 01, 2014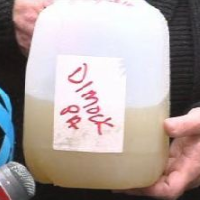 Dimock water (photo: YNN-10 Now News)
Pennsylvania has finally revealed the extent of the contamination of water wells caused by drilling for gas and oil in the part of the Marcellus Shale deposits that run through the state.
The list released Thursday by the Department of Environmental Protection (DEP) reveals 243 instances in which drilling contaminated water wells. Some of the causes of contamination were methane gas contamination, spills of wastewater and other pollutants, and wells that went dry or were otherwise undrinkable, according to the Associated Press.
An investigation by Pennsylvania's auditor general concluded last month that the DEP method of handling complaints about water contamination "was woefully inadequate." In addition, investigators could not determine even whether all complaints had been entered into DEP's system.
"I guess this is a step in the right direction," Thomas Au of the Pennsylvania Sierra Club chapter said of the document release, according to AP. "But this is something that should have been made public a long time ago."
The problems documented in the release cover 2008 to the present. It's been known for some time that drilling has been contaminating drinking water. An internal Environmental Protection Agency (EPA) report last year said methane, manganese and arsenic were contaminating wells in Dimock, Pennsylvania, and gas drilling was the likely culprit. That finding contradicted public statements by the EPA that the water was safe to drink.
Drilling in the Marcellus Shale reserves involves hydraulic fracturing, or fracking, in which water often containing harmful chemicals is pumped into the ground to help release oil and gas trapped in the formation. The used chemicals are then injected back into the ground. Those chemicals have been found to leach into drinking water supplies. In addition, the technique has begun to cause earthquakes in some regions where it's being used.
-Steve Straehley
To Learn More:
Online List IDs Pa. Water Wells Harmed By Drilling (by Kevin Begos and Michael Rubinkam, Associated Press)
In Rare Move, Pennsylvania Prosecutes Exxon Subsidiary for Fracking Pollution (by Noel Brinkerhoff, AllGov)
Internal EPA Report Conflicts with Agency's Stance on Fracking Contamination in Pennsylvania Town (by Noel Brinkerhoff, AllGov)
Fracking Companies Buy Silence of Families with Contaminated Water (by Noel Brinkerhoff, AllGov)
Pennsylvania Caught Cheating on Water Test that Showed Fracking Poisons (by Noel Brinkerhoff, AllGov)