Internal EPA Report Conflicts with Agency's Stance on Fracking Contamination in Pennsylvania Town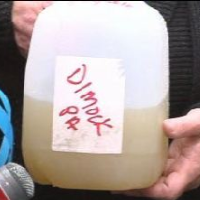 Dimock Water (photo: YNN-10 Now News)
Officially, the U.S. Environmental Protection Agency (EPA) said last year that the drinking water in Dimock, Pennsylvania, was not contaminated by natural gas extraction involving hydraulic fracturing (fracking). However, an internal EPA document obtained by the media contradicts this assertion, raising questions over why officials declared the water was safe to drink.
Residents of Dimock had complained for years that nearby gas drilling had polluted their wells. These complaints prompted the EPA's mid-Atlantic field office to test the water for 64 homes.
Agency leaders in Washington later announced that nearly all of the samples came out clean.
But an EPA PowerPoint presentation obtained by the Tribune/Los Angeles Times Washington Bureau reveals that EPA on-site staff members informed its Washington headquarters that several wells had been contaminated with methane, manganese and arsenic, and that gas drilling was the likely culprit. The determination was based on studies conducted over the course of a four- to five-year period at the site.
The document concluded that "methane and other gases released during drilling (including air from the drilling) apparently cause significant damage to the water quality." The presentation also stated that "methane is at significantly higher concentrations in the aquifers after gas drilling and perhaps as a result of fracking [hydraulic fracturing] and other gas well work."
The decision by EPA officials in Washington to ignore the agency's own findings and shut down the investigation mirrored other recent episodes.
In March 2012, the EPA gave up on an investigation of methane in drinking water in Parker County, Texas, despite the fact that a geologist hired by the regulator confirmed that the methane was from gas production.
In late June, the EPA cancelled a study of possible contamination of drinking water in Pavillion, Wyoming, even though it had found carcinogens, hydrocarbons and other contaminants in the water.
"We don't know what's going on, but certainly the fact that there's been such a distinct withdrawal from three high-profile cases raises questions about whether the EPA is caving to pressure from industry or antagonistic members of Congress," Kate Sinding of the Natural Resources Defense Council told the Los Angeles Times.
The EPA's response to the revelation in the Dimock case was to say that the on-site report was merely a "preliminary evaluation that represent[s] one [employee's] thoughts regarding 12 samples."
"What's surprising is to see this data set and then to see EPA walk away from Dimock," Robert B. Jackson, professor of environmental sciences at Duke University, who researched methane contamination at Dimock, told the Times. "The issue here is, why wasn't EPA interested in following up on this to understand it better? The question we're asking is, 'Was there enough evidence to warrant further study?' The EPA scientist clearly thought so."
-Noel Brinkerhoff
To Learn More:
Internal EPA Report Highlights Disputes Over Fracking and Well Water (by Neela Banerjee, Los Angeles Times)
EPA Censored Key Pennsylvania Fracking Water Contamination Study (by Steve Horn, Common Dreams)
Isotech-Stable Isotope Analysis: Determining the Origin of Methane and its Effect on the Aquifer (EPA) (pdf)
EPA Says Water Near Pennsylvania Fracking is Safe, but Would You Drink It? (by Noel Brinkerhoff and Matt Bewig, AllGov)
EPA Finally Supplies Drinking Water to Pennsylvania Fracking Victims (by Matt Bewig, AllGov)