Student-Athletes Sue Univ. of North Carolina for Failing to Provide a Real Education
Wednesday, March 04, 2015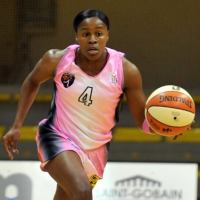 Leah Metcalf (photo: Michel Viala, DDM)
The University of North Carolina, a historical powerhouse in college basketball, is being sued by former student athletes in two separate lawsuits alleging the school failed to offer them a real education.
The litigation follows a scandal that broke last year in which UNC was accused of offering phony "paper classes" to student athletes to help them get by while playing sports.
One lawsuit states: "For the last eighteen years, from 1993 through at least 2011, UNC, widely regarded as one of the nation's elite public institutions of higher education, systematically and purposely failed to educate many of its students, and particularly its student-athletes, by enrolling them in hundreds of sham courses—sometimes in the guise of lecture courses and sometimes in the guise of independent study courses—that involved no professional involvement, offered little rigor and no real education."
That case was filed by Leah Metcalf, who played women's basketball for North Carolina from 2001 to 2005, and James Arnold, who played football from 2005 to 2009. Metcalf had dreams of becoming a doctor, while Arnold said he wanted to study computer science. But both say school officials told them to take easier courses in the university's School of African and Afro-American Studies. Both graduated from college, but found they couldn't get professional jobs usually offered to college graduates. Metcalf played basketball in Europe and Arnold manages an appliance rental store.
Their lawsuit followed another one filed in January by former women's basketball player Rashanda McCants and former football player Devon Ramsay, who sued in relation to the 2014 scandal regarding fake classes.
They accused UNC and the NCAA of breaking promises in "spectacular fashion" to give athletes an education, while making millions of dollars off sports programs and television revenues.
-Noel Brinkerhoff
To Learn More:
Class Claims UNC Failed Student-Athletes (by Denise McAllister, Courthouse News Service)
NCAA Says It Has No Legal Responsibility for UNC Academic Fraud (by Jon Solomon, CBS Sports)
Lawsuit Claims UNC and NCAA Broke Promises in 'Spectacular Fashion' (by Sara Ganim, CNN)
With an 8% Graduation Rate, are the University of Connecticut Basketball Players Really Students? (by Steve Straehley and Noel Brinkerhoff, AllGov)
National Labor Relations Board Rules College Football Players Can Unionize because They Work for Employers (by Noel Brinkerhoff, AllGov)
College Athletes Should be Allowed to Major in Football: Dan Treadway (by Noel Brinkerhoff, AllGov)