With an 8% Graduation Rate, are the University of Connecticut Basketball Players Really Students?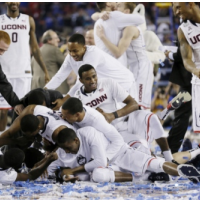 Connecticut players celebrate victory in NCAA final April 7, 2014 (photo: Charlie Neibergall, AP)
The University of Connecticut men's basketball team, which defeated Kentucky 60-54 on Monday night to win this year's national championship game, has been one of top teams in the country for years…on the court at least. But in the classroom, UConn's male students have not enjoyed academic success, with most failing to graduate. Of the 64 teams that qualified for the NCAA (National Collegiate Athletic Association) tournament, UConn had the worst graduation rate.
The NCAA reported last fall that only 8% of the UConn men's team completed their programs and received their degrees within a six-year window. The rate is measured for a four-year period.
That mark represented a new low for the team, which won national championships in 1999, 2004 and 2011, but was banned from last year's tournament because of its unusually low graduation rate.
In 2011, only 25% of the team graduated. That rate plummeted to 11% by the following year. By comparison, the national average for men's basketball programs is 74%.
The numbers should improve, as the most recent figures from the NCAA represent a period of poor academic achievement in the mid-2000s.
"The academic improvement that our men's basketball program has made over the past three years in the NCAA's Academic Progress Rate has been well documented," athletic director Warde Manuel said in a prepared statement. "Our team has earned three outstanding scores in a row, including a perfect 1,000 for the 2012-13 academic year, which will be officially announced by the NCAA this summer."
The Academic Progress Rate is another measure of a team's success in the classroom. It's a formula based on the number of students on athletic scholarship, how many are academically eligible to play, and how many remain in school. A perfect score is 1,000. Teams not reaching 925 may be penalized.
An even more telling comparison involves the university's other, more heralded basketball team.
UConn's female basketball players had a 92% graduation rate, and that program has won eight national championships, making it one of the best women's basketball programs in the country. It was set to play Notre Dame on April 8 for its ninth title.
If Connecticut's poor academic record had you rooting for Kentucky in the NCAA final, keep in mind that since 2006, Kentucky has fielded 13 different players who spent only one year at the school.
-Steve Straehley, Noel Brinkerhoff
To Learn More:
Fitting NCAA Tournament Final: Team Penalized for Poor Academics vs. Team Built not to Graduate (by Jon Solomon, Birmingham News)
Keeping Score When It Counts: Academic Progress/Graduation Success Rate Study of 2014 NCAA Division I Men's and Women's Basketball Tournament Teams (Institute for Diversity and Ethics in Sports) (pdf)
Keeping Score When It Counts: Analyzing the Academic Performance of the 2014 NCAA Division I Men's and Women's Sweet 16 Teams (Institute for Diversity and Ethics in Sports) (pdf)
UConn Men's Basketball Scores An 8 Percent Graduation Rate (by Don Amore, Hartford Courant)
Education Secretary Duncan Suggests Banning Low-Graduation Rate Schools from NCAA Tournament…Including Kentucky (by Noel Brinkerhoff and David Wallechinsky, AllGov)