Strong Racial Bias by Baltimore Police Detailed in New Justice Dept. Report
Wednesday, August 10, 2016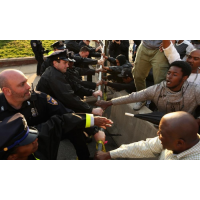 Baltimore police face off with demonstrators, April 2015 (photo: Chip Somodevilla, Getty Images)
By Richard A. Oppel Jr., Sheryl Gay Stolberg and Matt Apuzzo, New York Times
The Justice Department has found that the Baltimore Police Department for years has hounded black residents who make up most of the city's population, systematically stopping, searching and arresting them, often with little provocation or rationale.
In a blistering report (pdf), coming more than a year after Baltimore erupted into riots over the police-involved death of a 25-year-old black man, Freddie Gray, the Justice Department is sharply critical of policies that encouraged police officers to charge black residents with minor crimes. A copy of the report was obtained by The New York Times.
The critique is the latest example of the Obama administration's aggressive push for police reforms in cities where young African-American men have died at the hands of law enforcement.
The findings, to be released today, are the first formal step toward the Justice Department's reaching a settlement with Baltimore — known as a "consent decree" — in which police practices would be overhauled under the oversight of a federal judge. The department started the inquiry at the invitation of Mayor Stephanie Rawlings-Blake.
To show how officers disproportionately stopped black pedestrians, the report cited the example of a black man in his mid-50s who was stopped 30 times in less than four years. None of the stops led to a citation or criminal charge. Black residents, the report said, accounted for 95 percent of the 410 individuals stopped at least 10 times in the 5 1/2 years of data reviewed.
The most pronounced racial disparities were in arrests for the most discretionary offenses: For example, 91 percent of those arrested solely for "failure to obey" or "trespassing" were African-American, even though the city is 63 percent black, the report found.
The report indicated that the frequency of arrests without probable cause was reflected in the fact that booking supervisors and prosecutors had declined to file charges, after arrests by their own officers, more than 11,000 times since 2010.
Two weeks ago, Maryland prosecutors dropped charges against the last of six officers charged in the April 2015 death of Gray, who suffered a fatal spinal cord injury while in custody. With that, Baltimore joined a growing list of cities where police-involved deaths sparked outrage.
"I don't think at this point, it's about justice for Freddie Gray anymore," said Ray Kelly, a director of the No Boundaries Coalition. "Now it's about justice for our community, for our people."
To Learn More:
Investigation of the Baltimore City Police Department (U.S. Department of Justice, Civil Rights Division) (pdf)
Baltimore Uses Aggressive Tactics in Demanding Silence from Victims of Police Misconduct Who Win Settlement Claims (by Noel Brinkerhoff and Steve Straehley, AllGov)
Are Baltimore Police Engaged in a Low-Profile Work Slowdown to Protest Oversight? (by Steve Straehley, AllGov)
Outside Agitators and Violence in Baltimore: 70% of Baltimore Police Don't Live in Baltimore (by Noel Brinkerhoff, AllGov)