Spying on Oregon Civil Rights Director Unveils State Surveillance of Black Lives Matter
Saturday, November 21, 2015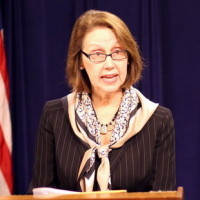 Oregon Attorney General Ellen Rosenblum (photo: Thomas Patterson, AP/Statesman Journal)
Oregon's attorney general has a major political mess on her hands after revealing a state Department of Justice investigator monitored the Twitter feed of Black Lives Matter activists—and had also spied on tweets by a key official within the department.
Attorney General Ellen Rosenblum admitted that someone in the Criminal Justice Division used a "threat assessment" software to search the Twitter feeds of individuals using #BlackLivesMatter.
The probe also ensnared Erious Johnson, head of the Oregon Department of Justice Civil Rights Division, who had at times used the hashtag in his tweets. Rosenblum apologized to Johnson, but did not publicly reveal the identity of the investigator who employed the software called DigitalStakeout to search for people using the #BlackLivesMatter hashtag and the hashtags #DontShootPDX and #FuckthePolice. DigitalStakeout describes itself as "a cloud-based threat intelligence platform that mines the web in real time."
"I have now seen firsthand how devastating profiling can be - written on the face of a member of my team," Rosenbaum said. "This is, in my view, exactly what our profiling laws are meant to prevent. Black Lives Matter is a social and political movement, protected by the First Amendment. Association with Black Lives Matter does not create violence and does not deserve intrusion by the state."
"I want to take this opportunity to state publicly that profiling is real. It is happening now. And the effects of it are toxic," she added.
Rosenblum said the unidentified employee used the software on a trial basis. She also said she put a stop to the surveillance and suspended the investigator. "There may be others," she said, suggesting more people may have been involved in the surveillance activities.
Civil rights groups demanded a criminal investigation into the spying and an audit of the surveillance to determine its origin, scope and purpose. The American Civil Liberties Union has begun its own investigation.
-Noel Brinkerhoff
To Learn More:
Spying on Black Lives Matter Recalls Days of FBI Snooping (by Karina Brown, Courthouse News Service)
Black Lives Matter: Oregon Justice Department Searched Social Media Hashtags (by Denis C. Theriault, The Oregonian)
Letter to Attorney General Ellen Rosenblum (Urban League of Portland) (pdf)
Houston FBI Justified Spying on Protesters by Saying Keystone Pipeline was Vital to National Security (by Noel Brinkerhoff, AllGov)
L.A. County Sheriff's Department Spied on Entire City with Eye in the Sky but Kept It Secret (by Ken Broder, AllGov California)
U.S. Counter-Terrorism Apparatus is used to Quell Dissent among Americans (by Noel Brinkerhoff, AllGov)
Occupy Wall Street Was Target of FBI Counterterrorism Operation (by Noel Brinkerhoff, AllGov)