South Dakota Republican Governor Breaks With Party Faithful to Veto Transgender Bathroom Bill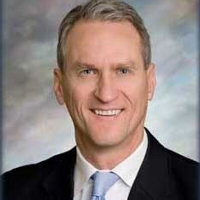 South Dakota Gov. Dennis Daugaard (R)
By James Nord, Associated Press
PIERRE, S.D. — When South Dakota Gov. Dennis Daugaard vetoed a bill this week that would have required transgender students to use bathrooms and locker rooms that match their sex at birth, it wasn't his first break with members of his Republican Party.
The same governor who orchestrated a massive cut in state spending early in his first term has since won a pair of tax increases to fund roads and higher salaries for teachers. He has also considered expanding Medicaid in South Dakota, even though Republicans hold every statewide office and supermajorities in both legislative chambers.
Confidants say the moves aren't surprising for a thoughtful, analytical governor who charts his own course, and that Daugaard's approach to politics and policy hasn't changed during his tenure. Despite his initial positive reaction to the transgender student bathroom bill, he discussed it with three transgender individuals, who he said helped him see the issue "through their eyes."
"He is not an ideologue," said Dusty Johnson, Daugaard's former chief of staff. "He is a pragmatist who cares about people and getting things done."
He has taken flak from conservative elements in the party, and his Medicaid and education funding proposals have been the subject of attack ads on TV and radio.
"He always held himself out as a pillar of the conservative cause, and then after getting re-elected, he's embraced an entirely different philosophy," said Republican Sen. Brock Greenfield.
The tax hikes approved Tuesday will mark the first permanent increase to South Dakota's sales tax rate in nearly half a century once signed. Daugaard said he was "elated," about the passage of the bill, which aims to improve South Dakota's lowest-in-the-nation teacher pay.
Daugaard — who says he has no aspirations to remain in politics once his second term expires — said he waited until after the vote on the tax bill before revealing his decision to veto the transgender bathroom measure, so that it wouldn't affect the outcome.
Observers, including opponents of the measures, either dismiss the possibility of political retribution for his departure from Republican orthodoxy, or point out that the governor doesn't plan to continue his political career beyond the end of his current term.
State House Majority Leader Brian Gosch, who opposed the tax increase, said it's unlikely to be undone, and that supporters of the transgender student bathroom bill would have difficulty mustering support to override the governor's veto.
Daugaard's 45-point margin of victory in 2014 was the largest of any governor in the state's history.
Daugaard said Wednesday that he hasn't changed course during his second term.
"In my very first inaugural address, I remember making the statement that I didn't get elected to be concerned about re-election," Daugaard said.
To Learn More:
Federal Court Protects Transgender Immigrant from Deportation to Mexico Based on Anti-Torture Rules (by Steve Straehley, AllGov)
First Settlement in Federal Employment Case for Non-Government Discrimination against Transgender Employee (by Noel Brinkerhoff, AllGov)
8,800 Transgender Americans are on Active Duty in U.S. Military (by Noel Brinkerhoff, AllGov)