Some American Psychological Association Leaders Guilty of Encouraging Torture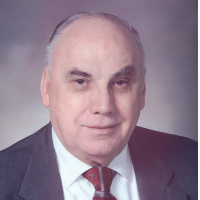 Joseph Matarazzo (photo: Oregon Health and Science University)
An investigation of Central Intelligence Agency (CIA) and Defense Department torture practices after the September 11, 2001, terrorist attacks shows that the agency was aided in its interrogations by officials of the American Psychological Association (APA), the professional group for psychologists, according to a study ordered by the APA.
The association asked Chicago law firm Sidley Austin to look at what the connection was between the group's officials and the torture program. The firm's David Hoffman led the seven-month investigation and while Hoffman's report (pdf), obtained by The New York Times, doesn't say APA officials were aware of the details of the torture, "we did find evidence that during the time that APA officials were colluding with DoD (Department of Defense) officials to create and maintain loose APA ethics policies that did not significantly constrain DoD, APA officials had strong reasons to suspect that abusive interrogations had occurred," the report reads.
The investigation showed that the APA ensured that its ethics policy did not conflict with the standards the Defense Department was using to permit torture of terror suspects. "Notably, APA officials made their decisions based on these motives, and in collaboration with DoD officials, without serious regard for the concerns raised that harsh and abusive techniques were occurring, and that they might occur in the future," according to the report.
The CIA even got the blessing of a former APA president. Joseph Matarazzo said that sleep deprivation, one of the techniques used by the agency, was not torture. Matarazzo later owned 1% of a company run by former Air Force psychologists John "Bruce" Jessen and Dr. James Mitchell, who developed torture techniques for the CIA.
The APA in 2005 renounced the ethics guidelines that allowed its members to participate in torture but several of those who participated in those efforts are still at the association, according to the Times.
-Steve Straehley
To Learn More:
Psychologists Shielded U.S. Torture Program, Report Finds (by James Risen, New York Times)
Independent Review Relating to APA Ethics Guidelines, National Security Interrogations, and Torture (by David Hoffman, et. al, Sidley Austin) (pdf)
Legal Justification for Bush Torture Program Relied on Secret Support of American Psychological Association (by Noel Brinkerhoff, AllGov)
CIA Paid $81 Million to Hire Psychologists to Teach Torture Techniques (by Noel Brinkerhoff, AllGov)
American Psychological Association Refuses to Charge Member Who Committed Torture at Guantánamo (by Noel Brinkerhoff and Danny Biederman, AllGov)