Secret Service Racial Discrimination Lawsuit Crawls Forward after 14 Years
Wednesday, August 06, 2014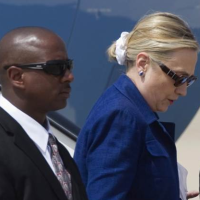 Hillary Clinton with African American secret service agent (photo: Sergio Perez, Reuters)
More than a hundred African-Americans who worked for the Secret Service may finally get their day in court after suing the agency 14 years ago on grounds of racial discrimination. The class-action lawsuit, filed in 2000, alleges the plaintiffs were denied promotions because of their race.
One hundred twenty current and former Secret Service agents are involved in the litigation, with eight lead plaintiffs. They claim they were passed over for higher pay grades from 1995 to 2005 under the Secret Service's Merit Promotion Plan despite being qualified for promotions.
The case has taken so long to go to trial in part because the government first contended the case shouldn't have class-action status, and then tried to decertify the class of plaintiffs, which would have weakened the plaintiffs' legal position had they been forced to sue individually.
But a Washington, D.C.-based appeals court on Friday upheld a lower court ruling that certified the case as a class-action lawsuit. "Because there is a good deal of commonality in the way all those promotion decisions were made, the district court did not manifestly err in finding the class claims could be moved together toward resolution," Judge Douglas Ginsburg wrote for the U.S. Court of Appeals for the District of Columbia.
It is not yet known when the civil trial will finally begin.
The agents seek back pay and compensatory damages, as well as a ruling that forces the Secret Service to cease its alleged discriminatory promotion practices.
-Noel Brinkerhoff
To Learn More:
Court Says Black Secret Service Agents Can Sue Government as a Group (by Kellie Lunney, Government Executive)
Appeal Petition (U.S. Court of Appeals, District of Columbia) (pdf)
Secret Service Must Face Class of Black Agents (by Ryan Abbott, Courthouse News Service)