Secret Service, in 2011, Was Unaware of Shots Fired at White House until Housekeeper Found Clues 4 Days Later
Tuesday, September 30, 2014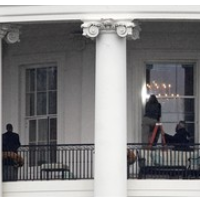 Examination of White House window hit by bullet in 2011 (photo: Haraz N. Ghanbari, AP)
A 21-year-old man parked his car near the White House three years ago, pointed a semiautomatic rifle out the window and opened up on the residence of President Barack Obama and his family. No one was hurt and the culprit was caught a few days later—no thanks to the U.S. Secret Service.
An investigation by The Washington Post into this potentially disastrous incident revealed how the Secret Service bungled its response to the November 11, 2011 shooting that resulted in seven bullets striking the second floor of the White House.
On the night of the shooting, supervisors immediately concluded there was no threat, even though agents on guard heard the shots and prepared to respond. They were told to "stand down" after their superiors wrongly assumed that a car had backfired near the White House. Then, Secret Service supervisors concluded there had been gunfire, but that it was the result of local gangs shooting at one another — "an unlikely scenario in a relatively quiet, touristy part of the nation's capital," the Post's Carol Leonnig wrote.
Fortunately, the President and First Lady Michelle Obama were out of town that night and their oldest daughter, Malia, was out with friends. But their youngest daughter, Sasha, and Michelle Obama's mother, Marian Robinson, were home inside the White House.
It wasn't until four days after the attack that the agency realized someone had indeed shot at the White House, and only because a housekeeper found broken glass and broken concrete on the floor. "Nobody conducted more than a cursory inspection of the White House for evidence or damage," Leonnig reported. "Key witnesses were not interviewed until after bullets were found." That day, Michelle Obama also returned from her trip and subsequently learned of the shooting.
The gunman, Oscar R. Ortega-Hernandez, was caught. But that was only after he got into a car accident seven blocks from the White House and left his rifle inside his vehicle. He made his way to a hotel in Indiana, Pennsylvania, where he was arrested five days after the shooting.
Michelle Obama was still upset about the shooting when the President returned several days later from a trip to Australia, partly because she hadn't been told of the shooting by then-Secret Service chief Mark Sullivan, with whom she had flown back from her trip. "When the president came back ... then the s--- really hit the fan," one former aide told the Post.
Now the Secret Service is facing more questions, this time about an intruder who jumped the White House fence and made it all the way to the East Room before he was subdued. Omar J. Gonzalez was carrying a knife September 19 when he eluded security officers and entered the building's north entrance.
Secret Service Director Julia Pierson, who was appointed in 2013 to clean up the agency's problems, including a Colombian prostitution scandal, has a date with the House Oversight and Government Reform Committee. "I want to know about the culture that could let this happen," committee ranking member Rep. Elijah Cummings (D-Maryland) said. "I don't want people to even imagine that they can get past the Secret Service to do harm to anyone they're guarding, period."
-Noel Brinkerhoff, Steve Straehley
To Learn More:
Secret Service Fumbled Response after Gunman hit White House Residence in 2011 (by Carol D. Leonnig, Washington Post)
White House Defends Secret Service after Report on 2011 Shooting (by Kurtis Lee and Neela Banerjee, Los Angeles Times)
Secret Service Director Faces Grilling Over Security Breaches (by David Lawder, Reuters)
White House Intruder Left His Weapons in His Car, Claimed He was Trying to Help Obama Warn Americans that "Atmosphere was Collapsing" (by Noel Brinkerhoff and Danny Biederman, AllGov)
Secret Service Director Pulled White House Agents to Protect his Assistant (by Noel Brinkerhoff, AllGov)