"Retaliatory Culture" at TSA has "Paralyzed" Agency and Compromised Security Goals, Say Whistleblowers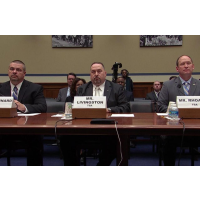 Three TSA whistleblowers testifying before House committee, April 2016 (photo: C-SPAN)
By Tim Ryan, Courthouse News Service
WASHINGTON (CN) - Crackdowns on dissenters and lenient treatment of unqualified upper management have left the Transportation Security Administration "paralyzed" and "in crisis," three agency whistleblowers told Congress on Wednesday.
Jay Brainard, the federal security director for the TSA Office of Security Operation, told the House Oversight and Government Reform committee Wednesday morning that, between 2011 and 2015, the TSA staffed its leadership positions with "unprepared employees" who were chosen not for their qualifications, but because they were well-liked within the agency.
"For years we had many senior executives, most of which completely lacked the experience needed for their position, run amok and make decisions or conduct themselves in an unethical manner which eroded our ability to complete the security mission and grossly compromised the integrity of our agency," Brainard told the committee.
He called these unprepared executives "the biggest bullies in government," and said their past efforts to avoid punishment by coming down hard on employees who pointed out misconduct have left a broken, battered workforce with poor morale.
Andrew Rhoades, assistant federal security director in the Office of Security Operations, compared the culture at TSA to the John Belushi classic "Animal House" and the relationship between agency leadership and its front-line workers to HBO's "Game of Thrones."
"We elevate people in senior positions that do not have the experience or character and ability to lead and manage a large, complex organization," Rhoades said.
In addition, many of the leaders who contributed to the problems within the TSA were never removed from their positions, Brainard told the committee.
"The same people who broke this agency are the same people who are essentially still running it," Brainard said.
Leaders came down on employees who challenged them by directing their reassignments to other airports, forcing them into early retirements or demoting them to less prestigious, lower-paying positions, Brainard and the other witnesses said.
The committee has set its sights on the agency since an inspector general report last summer revealed failures in the TSA procedures and practices. In November, the committee held a hearing with recently appointed TSA Director Peter Neffenger exploring the reports.
Committee Chairman Rep. Jason Chaffetz, R-Utah, said Wednesday that a "large number" of whistleblowers have contacted the committee raising concerns about the "highly retaliatory culture" within the TSA.
Mark Livingston, program manager for the TSA's Office of the Chief Risk Officer, gave the committee a firsthand report of this culture, saying he was demoted two levels for reporting a senior leader's sexual harassment and other misconduct.
"I was told on Monday, 'great job over the weekend working for some work for the White House,' I was told Tuesday that 'you're being nominated for an award,' and I was told Thursday 'you're done,'" Livingston said.
He said people who seek to report misconduct are treated as outcasts, claiming his co-workers tried to convince him to lie when a sexual harassment complaint came to light within his office.
The demotion cost him $10,000 in salary, as well as bonuses and other incentives, Livingston told Rep. Elijah Cummings, the ranking Democrat on the committee.
Cummings was surprised when Livingston told him the TSA demotion process contains few checks and largely ignores due process.
"So they basically demoted you, and they can demote you if they want to, and you don't have any adequate protections and limited due process during that period?" Cummings asked.
Both Rhoades and Brainard told similar stories about retaliation, and all three officials have filed complaints about their treatment either in court or with administrative agencies.
Brainard put the number of questionable leaders in the TSA at 20, but cautioned that most front-line employees are hardworking, good people.
"We're talking about a very small number of people who, for whatever reason I cannot explain, have held onto power," Brainard said.
All three whistleblowers who came before the committee pointed out that their concerns were primarily with people put in place under the previous administration, and they commended Neffenger for his work towards changing the poor culture within his agency.
But Livingston told the committee he is concerned Neffenger is not getting the support he needs to turn the TSA around.
"He has the right mindset and the energy to change it, but he's got to put different people in different positions," Livingston said. "He's not going to get there with the same team."
Rep. John Mica, R-Fla., said after the hearing that he wasn't sure legislation would help correct the issues within the agency, but said he would have to wait until Neffenger's appearance before the committee.
"It probably will be up to the administrator, we need to make certain he has the ability under law to do it, but I think he does," Mica said. "He's coming in a couple weeks so we'll question him, but there are people who are making it miserable, not doing things in the correct fashion."
Mica wouldn't say exactly when Neffenger's hearing would be, but said it would happen within "a couple of weeks."
To Learn More:
TSA Accused of Firing Agent for Being a Witch (by Noel Brinkerhoff, AllGov)
TSA Official Warned Airports in Advance of Secret Security Tests (by Noel Brinkerhoff, AllGov)