Post-Partum Depression Diagnosis Can Raise Disability and Life Insurance Rates
Monday, February 29, 2016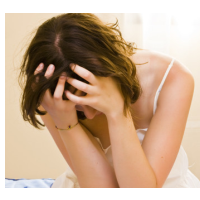 (photo: Jose Antonio Sanchez Reyes via Getty Images)
By Ron Lieber, New York Times
In January, a government-appointed panel recommended that all pregnant women and new mothers be screened for depression. Public health advocates rejoiced, as did untold numbers of women who had not known that maternal mental illness even existed before it hit them like a freight train.
But the panel did not mention one possible consequence of a diagnosis: Life and disability insurance providers have sometimes penalized women with these mental illnesses by charging them more money, excluding mental illness from coverage or declining to cover them at all. And it's perfectly legal.
Many insurance companies lump these women with the larger pool of people in whom more general depression has been diagnosed. That can leave those with mild to moderate cases that came and went facing higher rates, even if they may not be at higher risk of suicide or being unable to work. But insurers base decisions on actuarial data, and the historical underdiagnosis of mild to moderate postpartum depression means there is not much long-term data for insurance companies to use.
Not every woman will pay higher rates, and the fear of doing so is not a good reason to avoid screening or necessary treatment. Women who are aware of the potential insurance problems can theoretically circumvent them in the short term. Any woman who has never given birth but hopes to get pregnant soon should buy as much life and disability insurance as she thinks she will need before she conceives.
But that requires the skills of a fortuneteller, which Rebecca Fox Starr lacks. When she and her husband were childless first-time homebuyers, they bought life insurance. Now, as the parents of two children, they need more.
It will probably cost them more this time, if they can get insurance at all. After the birth of their second child in 2013, Fox Starr suffered from postpartum depression and was eventually hospitalized. Now, she finds herself in the opaque world of actuarial taint.
"It is scary to think that I am less insurable when I am likely someone who needs life insurance more than those without mental health issues," she said.
How she will fare when she goes insurance shopping is impossible to know. But it is likely to go something like this. First, she'll probably need to let insurance companies scour commercial databases that contain her prescription records. Those tempted to lie about a history of depression should understand that to do so is insurance fraud. But people who have taken drugs for the condition should know that potential insurers will probably find out.
A few exceptions exist. Prudential says it only peers into the databases if women ages 18 to 64 are asking for policies worth $1 million or more. Zurich North America said that a current or previous diagnosis of postpartum depression is not a factor in its decision about whether to check a potential client's prescription history.
Once insurers complete the background check, then the personal questions will begin. How long ago was the depression? How long did it last? How severe was it? Did you have thoughts of suicide or attempt it? Were you hospitalized? Has the depression stopped? If you took a prescription medication, how long did you take it? Was this the first time depression was diagnosed? Has it been diagnosed since? The same questions probably will arise if pregnancy-related or postpartum anxiety, obsessive compulsive disorder or post-traumatic stress disorder were diagnosed in the past.
In the background, the life insurance companies are trying to calculate the odds of you killing yourself, and the disability underwriters are trying to guess the likelihood you will not be able to work because of mental illness in the future. Of the 20 or so top insurers I asked to comment, not one would say what odds they were using, adding that they consider their actuarial information proprietary. MassMutual refused to answer any questions or to say why. Allstate referred questions about its practices to an industry trade group, then stopped responding to messages.
The reluctance may be because of a lack of specific data. We just don't know a lot about who suffered from pregnancy-related mental health issues a generation ago and what became of them.
The practical ramification of that lack of data is this: Now that untold numbers of additional women are going to learn that they have mild to moderate postpartum depression because of increased screening, there isn't a satisfactory answer to the question of whether they ought to pay more for life and disability insurance afterward.
"To my knowledge, that data doesn't exist," said, Samantha Meltzer-Brody, the director of the perinatal psychiatry program at the University of North Carolina Center for Women's Mood Disorders. "But at what point are we going to penalize people who were never suicidal? How do we weigh this, or are we going to throw everyone in the same bucket?"
Some insurance companies say they may not lump the people who have mild to moderate cases with those who were hospitalized or tried suicide, depending on whether they have the right answers to the companies' underwriting questions. At Banner Life Insurance Co., women with a single episode of maternal depression could qualify for the best rate if it lasted less than a year and they are not currently taking any medication for the condition. At State Farm, women who have recovered from depression related to childbearing and have no history of other depression may also avoid higher premiums.
Northwestern Mutual said that women with maternal depression typically have an excellent prognosis and most applicants will pay the lowest rates. MetLife and Mutual of Omaha made similar remarks.
Disability insurers may give you coverage but permanently exclude any mental health disorders, so if cancer rendered you unable to work, the coverage would kick in, but not if you had an onset of major depression. Life insurance doesn't work this way, though policies generally have a suicide exclusion that lasts for the first year or so, no matter your health history.
For women who wish to avoid running this underwriting gantlet, buying as much insurance as they think they'll ever need before their first pregnancy remains the best move. Once the insurance companies give you a policy, they can't go back and re-underwrite you while it is in effect. USAA offers a sort of bonus feature on its life insurance: If you already have some coverage, you can add more without any additional medical exam if you are between 18 and 35 and you get married, have or adopt a child or buy a home.
If you haven't bought insurance yet, there may be other options.
Juli Fraga, a psychologist in San Francisco, often uses a diagnosis code that reads "adjustment disorder with anxiety" or "adjustment disorder with depression," under the theory that these diagnoses won't hurt women as much when insurance companies start nosing around later. (Health insurance companies can no longer underwrite based on your health history, thanks to the Affordable Care Act.) This may work, especially for people who do not end up going to a psychiatrist for prescriptions to help speed the healing.
When the time comes to buy insurance, shop around, perhaps with an independent agent who works with many companies. If you get turned down or don't like the rates you're quoted, ask if you can be reconsidered in a year or two if you don't experience additional mental illness.
Check to see what optional insurance you may have access to through your employer, too, since the insurance companies that service employers tend to underwrite the group of employees in total and don't ask individual workers that many questions. With Unum, for instance, a diagnosis of postpartum depression does not affect life insurance rates.
And then, this advice: Don't avoid the depression screening or treatment for fear of what it might portend for your rates at some point in the future. And get the insurance that you need, if you can possibly afford it.
Ashley Riser had life insurance, let it lapse for financial reasons, then reapplied after a diagnosis of postpartum depression, anxiety and obsessive compulsive disorder. She paid a higher rate.
"I often tell people that my life insurance policy helped save my life," she said, describing the moment she scoured it to see if there was a suicide exclusion during the initial period of the policy. There was. "I knew I couldn't leave my husband and baby in financial disaster, so instead, I dug up the courage to get the help I needed."
To Learn More:
Insurance Companies Avoid Patients with HIV/AIDS by Overcharging for Medications (by Noel Brinkerhoff, AllGov)