Insurance Companies Avoid Patients with HIV/AIDS by Overcharging for Medications
Saturday, January 31, 2015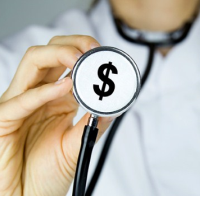 (graphic: Getty Images)
Despite the mandate from the Affordable Care Act that prohibits insurance companies from discriminating against patients with preexisting conditions, many of them are getting around the restriction by charging HIV/AIDS patients much higher rates for their drugs, which causes them to switch to other providers.
Researchers at Harvard examined 48 health plans in 12 states and discovered that about 25% of them used "adverse tiering," a type of pricing scheme that forces patients to pay at least 30% of a drug's cost. In the case of HIV/AIDS patients, that could mean paying thousands of dollars out of pocket for life-saving medications. The study did not reveal the names of any of the insurers.
Patients with other conditions, such as diabetes, mental illness, cancer and rheumatoid arthritis have experienced similar price gouging on their drugs.
The health insurance industry questioned the researchers' choices for their study, noting that they focused on "silver," or midlevel, plans that are popular because they cost less than so-called "gold" plans that offer more coverage, but come with higher premiums. America's Health Insurance Plans, an industry trade group, said the study should have included gold and platinum plans, according to The New York Times.
Two groups have already taken action against this practice. The AIDS Institute and the National Health Law Program filed a complaint with the Department of Health and Human Services about four Florida insurance companies overcharging HIV/AIDS patients for drugs. That action resulted in the companies agreeing to lower their prices, although the complaint is still pending.
-Noel Brinkerhoff
To Learn More:
Using Drugs to Discriminate — Adverse Selection in the Insurance Marketplace (by Douglas B. Jacobs and Benjamin D. Sommers, New England Journal of Medicine)
Study Finds HIV Drugs Priced Out of Reach (by Katie Thomas, New York Times)
Have Insurers Found Way Around Obamacare 'Pre-Existing Conditions' Rule? (by Dennis Thompson, HealthDay)
How Insurance Companies Still Discriminate Against the Sick (by Olga Khazan, The Atlantic)