Pope's Climate Change Campaign Alarms U.S. Conservatives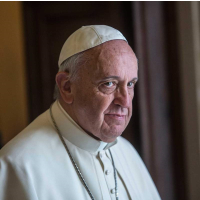 Pope Francis (photo: Getty Images)
Never shy to embrace and promote progressive ideas, Pope Francis is now turning his attention to climate change and global warming, which science has proven are largely the product of human activity.
American conservatives, however, continue to reject the data, going so far as to claim there is no sound science behind the conclusion. And they are especially frustrated that Pope Francis has adopted the position of the United Nations that climate is real and that the nations of the world have a responsibility to do something about it.
Some right-wingers have avoided directly criticizing the pope, and have instead accused UN officials feeding him bad information. "The Holy Father is being misled by 'experts' at the United Nations who have proven unworthy of his trust," Joseph Bast, president of the Heartland Institute, which has received funding from the climate-change denying Koch brothers, said in a statement. "Though Pope Francis' heart is surely in the right place, he would do his flock and the world a disservice by putting his moral authority behind the United Nations' unscientific agenda on the climate."
Artist and writer Maureen Mullarkey wrote in the conservative journal First Things that "Francis sullies his office by using demagogic formulations to bully the populace into reflexive climate action with no more substantive guide than theologized propaganda," according to The New York Times.
With that for a backdrop, Pope Francis is scheduled this September to address Congress, which is controlled by Republicans. Thirty percent of Congress, including House Speaker John Boehner (R-Ohio), is Catholic. Boehner invited the Pope to speak to Congress.
"I think Boehner was out of his mind to invite the pope to speak to Congress," Rev. Thomas Reese, an analyst at the National Catholic Reporter, told the Times. "Can you imagine what the Republicans will do when he says, 'You've got to do something about global warming?'"
-Noel Brinkerhoff
To Learn More:
Pope Francis Steps up Campaign on Climate Change, to Conservatives' Alarm (by Coral Davenporot and Laurie Goodstein, New York Times)
Vatican and U.N. Team Up on Climate Change against Sceptics (by Philip Pullella, Reuters)
12 Catholic Members of Congress Whose View of Climate Change Departs from the Pope's (by Noel Brinkerhoff, AllGov)
Climate Change Denial Gets Billions in Dark Money from Conservative Groups (by Noel Brinkerhoff, AllGov)