Plastic Bottle Industry Fights to Stay in National Parks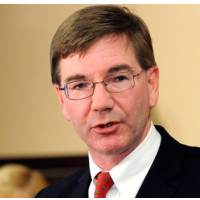 Rep. Keith Rothfus (photo: Don Wright, AP)
National Parks were given the option from Washington a few years ago to ban plastic water bottles in an effort to reduce pollution. But the adoption of that policy by some of the parks triggered a lobbying campaign by bottled water manufacturers to stop it before all the parks embrace a plastic water bottle ban.
In 2011, the National Park Service (NPS) issued a directive saying park managers could prohibit all disposable plastic water bottles, thousands of which have been dumped by visitors amid the scenic wonders.
At least 20 of the 407 parks, monuments and historical sites voluntarily embraced the idea. Among them were some of the park service's biggest attractions: the Grand Canyon, Canyonlands, Arches, Zion and Bryce national parks, and Mount Rushmore.
Zion National Park called it a "success story," noting that ending the annual sale of 60,000 water bottles is "the equivalent of 5,000 pounds of plastic not entering the waste stream." In fact, it was Zion's park concessioner, Xanterra, which proposed the idea a few years before NPS's policy went into effect. Rather than selling bottled water, the company offers affordable reusable bottles that can be filled with natural spring water at filling stations that it built. Xanterra did this, it says, because of its commitment to the environment and belief in NPS's mission.
Now steps in so-called Big Water, which has decided to push lawmakers to stop more parks from banning sales of disposable water at concession stands. Those involved in its $13.1-billion public relations and lobbying campaign include "the titans that manufacture Deer Park, Fiji, Evian and 200 other brands," according to The Washington Post.
First, the companies tried to convince NPS officials that their policy was "misguided" in that it bans only plastic water bottles and not, for instance, sales of Coca Cola in plastic disposable bottles. That meant the policy has the unintended effect of encouraging visitors to consume unhealthy sodas instead of just water, they argued.
But that didn't sway the Park Service, so the lobbyists found a friend in Congress, Representative Keith Rothfus (R-Pennsylvania). He introduced an 11th-hour amendment into the appropriations bill, recently passed by the House, which prohibits the Park Service from using taxpayer money to eliminate disposable plastic bottles in parks.
-Noel Brinkerhoff, Danny Biederman
To Learn More:
How Big Water Is Trying To Stop the National Park Service from Cleaning Up Plastic Bottles That Are Fouling the Parks (by Lisa Rein, Washington Post)
The Plastic Water Bottle Reduction in National Parks (National Park Service)
Go "Green" and Refill Your Water Bottles (National Park Service)
Parks Director Jarvis, Bowing to Coca-Cola, Halted Plastic Bottle Ban in Grand Canyon (by Noel Brinkerhoff and David Wallechinsky, AllGov)