Petraeus Lawyer Wants to Keep Secret One Sentence from Judge's Sentencing Memo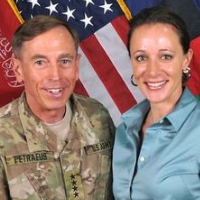 David Petraeus and Paula Broadwell (photo: Wikipedia)
Former Central Intelligence Agency Director David Petraeus got off easy last month, critics say, when he was sentenced for disclosing government secrets to his former lover. Now, the media wants to learn more about the sentencing decision, and Petraeus' attorney is trying to keep some of the information secret.
Petraeus, who commanded U.S. forces in Afghanistan before running the Central Intelligence Agency, fell from grace when he was caught giving diplomatic and military secrets to his biographer and then-lover, Paula Broadwell.
After being convicted, Petraeus was given two years' probation and a $100,000 fine when he could have gotten up to a year in prison. Others convicted of similar crimes have gotten jail time, prompting questions as to why Petreaus got off so easy.
After previously seeking a sentencing memorandum filed by the defense, a coalition of media groups has now asked the judge in the case, David Keesler, to release his written reasons for the punishment.
Petreaus' attorney, Jake Sussman, has agreed to turn over the defense memo, but wants one sentence, along with contact information contained in the document, blacked out. It's unknown what the content of the sentence is.
The request came from the Reporters Committee for Freedom of the Press, The New York Times, The Washington Post, The Charlotte Observer, Associated Press and National Public Radio, among others.
-Noel Brinkerhoff, Steve Straehley
To Learn More:
Media Group Wants Another Sentencing Document from Petraeus Case (by Michael Gordon, Charlotte Observer)
Petraeus Pleads Guilty To Mishandling Classified Material, Will Face Probation (by Adam Goldman, Washington Post)
Double Standard for Espionage Act as Petraeus Goes Free while Kiriakou and Sterling go to Prison (by Steve Straehley, AllGov)
The Real Petraeus Moral Failure…Lying to the American People about Afghanistan (by Noel Brinkerhoff, AllGov)