Double Standard for Espionage Act as Petraeus Goes Free while Kiriakou and Sterling go to Prison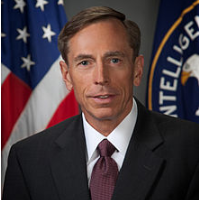 David Petraeus (photo: Wikipedia)
How a Central Intelligence Agency (CIA) official is punished for releasing classified information would seem to depend—in inverse proportion—on how much responsibility the officer had and how much information got into the wrong hands.
Former CIA Director David Petraeus pleaded guilty on Tuesday to one count of unauthorized removal and retention of classified information, a misdemeanor for which he could get a year in jail, but will almost certainly result in two years' probation and a $40,000 fine. Petraeus made the deal after he was found to have lent eight books filled with classified information to his girlfriend Paula Broadwell, who was writing an authorized biography of the general. He also lied to the FBI about it, which itself is a federal crime that could normally result in more than a year in jail.
"But the deal also ends two years of uncertainty and allows Mr. Petraeus to focus on his lucrative post-government career as a partner in a private equity firm and a worldwide speaker on national security issues," Michael S. Schmidt and Matt Apuzzo wrote in The New York Times.
Senator John McCain is one of many Petraeus supporters who seemed unfazed by the guilty plea. "At a time of grave security challenges around the world, I hope that General Petraeus will continue to provide his outstanding service and leadership to our nation, as he has throughout his distinguished career," he said in a statement after learning the news.
Until last month, former CIA counterterrorism officer John Kiriakou was focused on the walls of his cell in a federal correctional institution. He was released February 3 after serving about 22 months of a 30-month sentence for disclosing to a freelance reporter the name of a covert CIA operative who was involved with the agency's detainee interrogation program.
Former CIA officer Jeffrey Sterling is focused on the length of his sentence after being convicted in January for giving a New York Times reporter information about problems with the agency's effort to disrupt Iran's nuclear program. He faces years in prison when he's sentenced in April.
Why is it that lower-level officers are sent to prison for shedding light on CIA torture and missteps while the former director is getting off with a slap on the wrist? "I don't think General Petraeus should have been prosecuted under the Espionage Act, just as I don't think I should have been prosecuted under the Espionage Act," Kiriakou told The Intercept. "Yet only one of us was. Both Petraeus and I disclosed undercover identities (or confirmed one, in my case) that were never published. I spent two years in prison; he gets two years' probation."
CIA employees have no doubt taken note of the disparity in sentences and will be less likely to share information about agency abuses with the media in the future. Which is probably what the Justice Department had in mind all along.
-Steve Straehley
To Learn More:
Petraeus Reaches Plea Deal Over Giving Classified Data to His Lover (by Michael S. Schmidt and Matt Apuzzo, New York Times)
Petraeus Plea Deal Reveals Two-Tier Justice System for Leaks (by Peter Maass, The Intercept)
Gen. Petraeus's Plea Agreement Highlights Disparate Application of National-Security Laws: Critics (Homeland Security News Wire)
CIA Officer Is Found Guilty in Leak Tied to Times Reporter (by Matt Apuzzo, New York Times)
The Spy Who Said Too Much (by Steve Coll, New Yorker)
Ex-CIA Officer Sentenced to 30 Months in Leak (by Michael S. Schmidt, New York Times)
Whistleblower Jeffrey Sterling Convicted (by Noel Brinkerhoff and Steve Straehley, AllGov)
Justice Dept. Calls for Felony Charges against Gen. Petraeus (by Steve Straehley, AllGov)