Oklahoma Town Sues 27 Energy Companies for Role in Destructive Earthquakes
Monday, November 21, 2016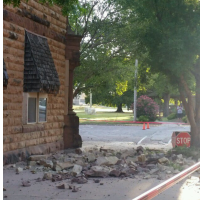 Earthquake damage in Pawnee, Oklahoma (photo: Twitter)
By Justin Juozapavicius and Tim Talley, Associated Press
TULSA, Okla. (AP) — Residents of a town hit by Oklahoma's strongest earthquake have filed a class-action lawsuit against dozens of energy companies, accusing them of triggering destructive temblors by injecting wastewater from oil and natural gas production underground.
Pawnee residents filed the suit Thursday in district court against 27 companies, saying they operate wastewater injection wells even though they know the method causes earthquakes. The lawsuit seeks an unspecified amount for property damage and reduced value, plus emotional distress.
A magnitude 5.8 earthquake struck the town of about 2,200 in September and the lawsuit claims 52 more have hit the area since. On Nov. 6, a magnitude 5.0 quake damaged dozens of buildings in nearby Cushing, a town that is home to one of the world's largest oil hubs.
Oklahoma has had thousands of earthquakes in recent years, with nearly all traced to underground wastewater disposal. Some scientists say that the high-pressure injection of massive amounts of chemical-laced wastewater deep in the earth induces the quakes. Regulators have asked oil and gas producers to either close injection wells or reduce the volume of fluids they inject.
Residents and environmental groups in neighboring states have sued energy companies curb or stop similar operations. Quakes in north central Arkansas all but stopped after the Arkansas Oil and Gas Commission voted to ban wells for the disposal of natural gas drilling fluids in July 2011. In 2014, a Prague, Oklahoma, resident sued two companies on the same grounds after a magnitude 5.6 temblor rattled her town in 2011.
Two of the companies identified in the Pawnee lawsuit, Eagle Road Oil, LLC and Cummings Oil Company, did not immediately return messages seeking comment Friday. The other 25 companies were not identified in the suit.
The lawsuit claims that companies are showing "reckless disregard for public or private safety," by continuing to operate the injection wells in the area.
"We have clients who don't allow their children to go upstairs because they're afraid the roof will fall in on them," said Curt Marshall, an attorney for the residents. "There's a lot of fear; when is the next big one?"
Marshall estimated that hundreds of homes in Pawnee have been affected by the quakes, sustaining damage ranging from cracks in walls, foundations and storm shelters to short-circuited electrical outlets.
A 2015 study by the U.S. Geological Survey suggested that Oklahoma's industrial activities, such as natural gas and oil production, have caused the sharp rise in earthquakes in the past 100 years.
Despite the criticism of wastewater disposal, Oklahoma oil and gas producers said Friday they are enthusiastic about new drilling opportunities in two recently discovered oil-and-gas rich sites in south-central Oklahoma that don't produce large amounts of wastewater.
The South Central Oklahoma Oil Province, centered in three counties southwest of Oklahoma City, and the Sooner Trend Anadarko Basin Canadian and Kingfisher Counties west of Oklahoma City, are among the nation's largest oil and gas fields.
To Learn More:
James Adams, et al., v. Eagle Road Oil, et al. (District Court of Pawnee County, State of Oklahoma)
Oklahoma's Third Largest Earthquake Likely Caused by Wastewater Disposal (Associated Press)
Fracking-Related Earthquakes Lead Oklahoma to Increase Regulation of Wastewater Wells (by Tim Talley, Associated Press)
Fracking Waste Injection Wells Linked to 60% of Earthquakes in Central and Eastern U.S. (by Noel Brinkerhoff and Danny Biederman, AllGov)
Scientists Strongly Link Fracking with Earthquakes in Texas and Oklahoma (by Noel Brinkerhoff and Steve Straehley, AllGov)
Oklahoma Scientists Agreed to Keep Quiet about Fracking-Earthquake Link for 5 Years (by Danny Biederman and Noel Brinkerhoff, AllGov)