Fracking Earthquake Responsibility Case Goes to Court
Wednesday, January 28, 2015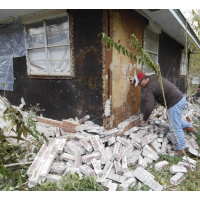 Damage from 5.6 Oklahoma quake, 2011 (photo: Sue Ogrocki, AP)
Oklahoma's Supreme Court will hear a potential landmark case that may further validate a linkage between fracking and earthquakes.
Two oil companies are being sued for causing an earthquake that caused the plaintiff, Sandra Ladra, to be injured. The case has serious ramifications for the oil and gas industry, which could be forced to stop using the controversial drilling procedure if the two companies are found liable.
In 2011, the town of Prague was hit by a 5.6 earthquake that damaged numerous homes, including one belonging to Ladra. The quake, the largest in Oklahoma history, was bookended by two 4.8 earthquakes. Ladra suffered an injury to her knee, requiring two surgeries. She contends the earthquake was the result of fracking wells operated by the defendants, New Dominion LLC and Spess Oil Co.
Ladra's lawyers are expected to cite government studies that have linked wastewater injection wells to "induced" earthquakes, according to the Tulsa World. "Oklahoma recorded 567 earthquakes last year of 3.0 magnitude or greater, more than in the previous 30 years combined," Ziva Branstetter reported.
Attorney Robert Gum, who represents New Dominion, told the newspaper that if his client and Spess lose the case, fracking wells "will become economic and legal-liability pariahs."
"I think the court has recognized that it's just potentially a very, very significant issue for the state, both for the economy and the industry as it relates to these wells and for the safety of the citizens," Gum said. The case went to the Supreme Court when a lower court dismissed it, ruling that the Oklahoma Corporation Commission had jurisdiction. The Oklahoma high court will decide where the case should be heard.
A similar suit in Arkansas was withdrawn by the plaintiffs, who are now in settlement talks with the defendants.
-Noel Brinkerhoff
To Learn More:
Prague Earthquake Suit Before Supreme Court Could Set Precedent (by Ziva Branstetter, Tulsa World)
Court Will Decide If Fracking Companies Can Be Held Responsible For Earthquakes (by Emily Atkin, Climate Progress)
Sandra Ladra v. New Dominion (Oklahoma District Court, Lincoln County) (pdf)
Oklahoma Earthquakes Blamed on Disposal of Fracking Waste (by Noel Brinkerhoff, AllGov)
U.S. Geological Survey Calls Oklahoma Quake the Largest "Human-Induced" Earthquake on Record (by Steve Straehley, AllGov)