Ohio Law Shielding Names of Execution Drug Sources Doesn't Violate First Amendment, Rules Court
Friday, November 04, 2016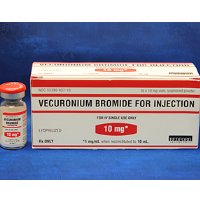 Drug used in executions
By Lorraine Bailey, Courthouse News Service
(CN) — An Ohio law shielding the names of companies that sell lethal injection drugs to the state does not tread on free-speech rights, a divided Sixth Circuit ruled.
In December 2014, Ohio passed HB 663, making the identity of individuals and companies who participate in the lethal injection of death-row inmates confidential.
The legislature passed the law after Ohio came under national scrutiny following the botched execution of Dennis McGuire in January 2014.
The drug cocktail injected into McGuire's veins had never been used before. Ohio ran out of pentobarbital — its preferred drug for executions — and instead used a mixture of midazolam and hydromorphone that left him choking and gasping for air for 25 minutes before he died.
Ohio has not carried out an execution since killing McGuire, in part because it cannot obtain the drugs required to ensure a painless death. Anti-death-penalty lobbying efforts have succeeded in persuading nearly all drug companies to stop selling pentobarbital to the state.
In an effort to circumvent this political pressure, HB 663 provides that the names of individuals involved in carrying out the death penalty — including the drug manufacturers — can no longer be disclosed as a public record or during judicial proceedings, unless a court specifically finds that the person's involvement in the administration of a lethal injection was unlawful.
Ohio death-row inmates sued, claiming the law unconstitutionally burdens free speech, but a federal judge dismissed their lawsuit because the inmates presented only "conjectural or hypothetical injuries."
A divided Sixth Circuit affirmed Wednesday, leaning on the U.S. Supreme Court's 2014 decision in Ryan v. Wood, which rejected an Arizona death-row inmate's claim that he is entitled to know the source of Arizona's lethal injection drugs and the qualifications of the state's executioners.
"A unanimous Supreme Court saw fit to summarily vacate - without briefing or argument — the Ninth Circuit's determination that a death-row inmate seeking state-held information related to the method of his execution 'raised serious questions' as to whether he would prevail on a First Amendment claim," Judge Eugene Siler said, writing for the panel's 2-1 majority. "This ruling raises grave doubts as to whether such a claim is legally cognizable in the first place."
Siler said the Supreme Court has never recognized a public right of access to government information as broad as that claimed by the inmates.
"While the public's right of access under the First Amendment covers certain records filed in and transcripts of a qualifying government proceeding, it does not follow that this right covers all information related to the proceeding," the 16-page opinion states.
The majority affirmed that the inmates have not shown they are likely to be prosecuted under the law for revealing the identities of participants in Ohio's death penalty procedures.
Judge Jane Stranch dissented, immediately citing the "horrifying tale" of McGuire's execution gone wrong.
"The complaint properly alleges speech that speakers desire to utter and both the plaintiffs and the public desire to hear," she said. "It alleges that HB 663 is a direct reaction to anti-death-penalty speech that historically has been available to the public — speech that had proven successful in the court of public opinion."
Stranch said the majority's decision upholding state secrecy with regard to execution proceedings denied death-row inmates a fair opportunity to challenge the constitutionality of their sentence.
To Learn More:
Most Death Penalty States Hide the Names of the Suppliers of Execution Drugs (by Noel Brinkerhoff, AllGov)
Georgia Uses Secrecy Law to Obtain Lethal Drug for Execution of Mentally Disabled Prisoner (by Danny Biederman and Noel Brinkerhoff, AllGov)
4 States Pass Laws Hiding Names of Suppliers of Death Penalty Drugs (by Noel Brinkerhoff, AllGov)