Obama Administration Sues Exxon for Polluting Pennsylvania Drinking Water with Toxic Fracking Waste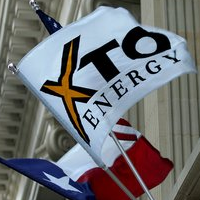 (photo: Ron Jenkins, Fort_Worth Star-Telegram/AP)
Having settled one water pollution case, an Exxon subsidiary is now facing a federal lawsuit alleging its hydraulic fracturing operations contaminated water supplies in Pennsylvania.
XTO Energy is accused of polluting groundwater with fracking waste from its natural gas well pad and storage facility in Hughesville, Lycoming County, according to the lawsuit.
The U.S. Department of Justice claims XTO Energy allowed flowback fluid and wastewater byproduct to reach water supplies.
The complaint says that "flowback fluid and produced fluid contain brine, proppant, hydraulic fracturing chemicals, dissolved solids, heavy metals and radionuclides."
The litigation comes only days after the Exxon subsidiary agreed to pay a $100,000 fine and to spend $20 million to improve wastewater management practices involving its Pennsylvania and West Virginia natural gas operations. The improvements are to include installation of an alarm system that will warn plant operators of onset of spills.
In the settled legal case, the Justice Department and the U.S. Environmental Protection Agency cited a Pennsylvania Department of Environment Protection inspector's visit to XTO's Penn Township plant, where wastewater was seen spilling from an open valve from a series of interconnected tanks. The identical combination of pollutants was found in a Susquehanna River basin tributary, which was traced back to the XTO plant.
The new lawsuit was filed almost simultaneously with media reports saying a "landmark federal study" commissioned by the U.S. Department of Energy revealed "no evidence that chemicals from the natural gas drilling process moved up to contaminate drinking water aquifers at a western Pennsylvania drilling site."
The study's controversial results were called "preliminary."
Both the study and the lawsuit involve fracking in the Marcellus Shale formation.
The government's lawsuit seeks civil penalties of up to $37,500 per day for violations occurring after January 2009, and an injunction against further violations of the Clean Water Act (pdf).
-Noel Brinkerhoff
To Learn More:
U.S. Sues Fracker in Pennsylvania (by Erin McAuley, Courthouse News Service)
XTO Settles Federal Water Pollution Charges in Pennsylvania (by Nick Snow, Oil & Gas Journal)
EPA Halts Study Linking Fracking with Water Pollution (by Noel Brinkerhoff and David Wallechinsky, AllGov)
Fracking Companies Buy Silence of Families with Contaminated Water (by Noel Brinkerhoff, AllGov)