Obama Administration Sets Deportation Record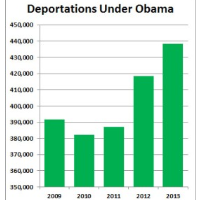 (graphic: Steve Straehley, AllGov)
Led by the "deporter in chief," the Obama administration set a record last year for kicking immigrants out of the country.
Immigration advocates have been critical of President Barack Obama's deportation policies, which last year resulted in 438,421 individuals being deported. Since Obama was sworn in, federal immigration authorities have removed more than 2 million undocumented immigrants. In fact, in just five years his administration managed to process as many deportations as officials under President George W. Bush did in eight.
Hispanics have been particularly critical of the number of immigrants being deported. According to a Pew Research Center poll, 60% said the increased deportations are "a bad thing," compared to a roughly even split among the general population.
Pew reported that "most of the growth in the number of deported immigrants has come from those deported for reasons other than a criminal conviction. In 2013, 240,000 deported immigrants did not have a previous criminal conviction, up from 218,000 in 2012. However, the number of deportations of those with a criminal conviction has hovered around 200,000 for the past two fiscal years, according to Ana Gonzalez-Barrera and Jens Manuel Krogstad.
Most of the more recent deportations are happening before the immigrant even has a chance to go before a judge. In the 2013 fiscal year, 83% of those deported were kicked out without a court hearing, according to the American Immigration Council. Many of those were "expedited removals" of those captured 100 miles or less from the border. Others were subject to "reinstatements" of prior removal orders.
-Noel Brinkerhoff, Steve Straehley
To Learn More:
U.S. Deportations of Immigrants Reach Record High in 2013 (by Ana Gonzalez-Barrera and Jens Manuel Krogstad, Pew Research Center)
Latest Numbers Show Record-Breaking Deportations in 2013 (by Mark Noferi, Immigration Impact)
Yearbook of Immigration Statistics: 2013 (Department of Homeland Security)
Despite Opposition from Majority of Americans, Obama Fast Tracks Deportation of Children (by Noel Brinkerhoff and Steve Straehley, AllGov)
U.S. Sets Deportation Record in 2012 (by Noel Brinkerhoff, AllGov)