NFL Hall of Famer's Lawsuit Claims Helmets Useless to Prevent Brain Injury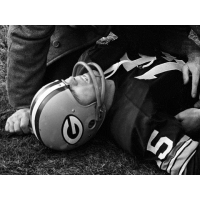 Paul Hornung lying injured during 1965 game (photo: Neil Leifer, Getty Images)
By Lisa Klein, Courthouse News Service
CHICAGO (CN) — Former pro football player Paul Hornung sued Riddell Sports, the manufacturer of the helmets he used during his years in the game, claiming they did nothing to protect him from brain injury.
Hornung, 80, won the Heisman Trophy at Notre Dame in 1956, was named MVP while playing in the National Football League for the Green Bay Packers, and was inducted into the Pro Football Hall of Fame in 1986.
He says in his lawsuit, filed Thursday in Cook County Circuit Court, that he suffered concussions and subconcussive brain traumas while wearing Riddell's plastic helmets, "supposedly to better protect his head and brain."
The helmets provided no brain protection at all, but players "were led to believe that the innovative helmets would do so," Hornung adds.
One of Hornung's attorneys at Corboy & Demetrio, William Gibbs, says he is now "dealing with the ramifications of the game."
Hornung has been diagnosed with dementia and, according to Gibbs, "it's suspected that his brain has the telltale signs of Chronic Traumatic Encephalopathy (CTE)."
Unfortunately, CTE "can't be diagnosed until one is dead," Gibbs added, although Hornung is showing symptoms of the neurodegenerative disease.
Riddell "knew of the long-term effects of brain traumas sustained by football players while wearing [its] supposed protective equipment," according to the complaint, but never warned players that they were in danger.
Erin Griffin, director of corporate communications for Rosemont-based Riddell and BRG Sports, said it is Riddell's policy not to comment on pending litigation.
Corboy & Demetrio also represent Chelsea Oliver, the widow of former NFL player Paul Oliver, who sued Riddell in Cook County in March after his "horrific" suicide.
Oliver shot himself in front of Chelsea and their two children in 2013 after five seasons in the NFL. He was diagnosed with CTE after his death. The lawsuit has since been moved to Federal Court and is still pending.
Oliver and Hornung did not include the NFL as defendants in their lawsuits because a judge in Pennsylvania issued an order in 2014 that no further claims could be made against the organization.
A class-action lawsuit against the NFL was settled, providing up to $5 million to individual players with neurological diseases. A panel of judges denied an appeal to the settlement in June, but Gibbs says the deadline to file an appeal with the U.S. Supreme Court is still open.
Corboy & Demetrio is partnering with the Brad Sohn Law Firm in Coral Gables, Fla., on Hornung's lawsuit. The Hall of Famer is seeking unspecified damages from Riddell and several of its affiliated companies.
To Learn More:
Playing in the NFL is a Dangerous Job: 250 Players Dealing with Injuries after Second Week of Games (by Noel Brinkerhoff and Steve Straehley, AllGov)
New State Law Favors Wealthy NFL Owners over Damaged Ex-Players (by Ken Broder, AllGov California)
NFL Players Sue League and Helmet Maker over Hidden Brain Injury Test Results (by Noel Brinkerhoff, AllGov)