NFL Players Sue League and Helmet Maker over Hidden Brain Injury Test Results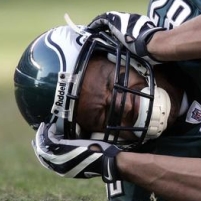 L.J. Smith (photo: Mel Evans , Associated Press)
Facing a potentially costly class-action lawsuit, the National Football League stands accused of hiding the dangers of head injuries and long-term health problems associated with them.
More than 2,000 former players are giving up their individual lawsuits and joining together, "setting up a massive and potentially costly case for the NFL" and helmet maker
Riddell Inc.
, which also has been named a defendant, according to the Associated Press.
In the new mega-civil case, ex-players claim the league is hiding information that links head trauma sustained from playing football to permanent brain injuries.
Plaintiffs compared the NFL to the sport of boxing, arguing that the league has been "aware of the health risks associated with repetitive blows producing sub-concussive and concussive results and the fact that some members of the NFL player population were at significant risk of developing long-term brain damage and cognitive decline as a result."
The lawsuit also states that "For 16 years, the NFL actively and continuously denied any link between MTBI [Mild Traumatic Brain Injury]...and the neurological symptoms and problems (such as headaches, dizziness, loss of memory, dementia and ALS [amyotrophic lateral sclerosis]) from which they (players) now suffer."
-Noel Brinkerhoff
To Learn More: