New York TV Stations more likely to Report Violent Crimes if Suspects are Black
Wednesday, March 25, 2015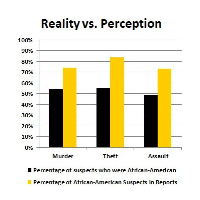 (graphic: Steve Straehley, AllGov; data from Media Matters for America)
Television news in New York City has tended to over report violent crimes committed by black people, according to a new study.
Media Matters for America examined stories from four TV stations, WCBS, WNBC, WABC, and WNYW (Fox), between August 18 and December 31 of last year. The watchdog group also looked at crime statistics compiled by the New York City Police Department over the past four years involving African Americans.
NYPD numbers revealed black suspects were arrested in 54% of murders, 55% of thefts, and 49% of assaults.
But 74% of homicides reported by the four stations where race was identified had black suspects; suspects in 84% of thefts reported on were African-American and in assault cases mentioned by the stations, 73% of suspects were black.
New York's not the only city whose media focuses on crimes whose suspects are African-American. A 2011 study of Pittsburgh media showed that when African-Americans are the focus of a news story in newspapers, 36% of the time the reporting is about black men or boys committing crime. The numbers are even more skewed in television: 86% of stories in that medium dealing with African-Americans focus on black men and boys in connection with crime.
-Noel Brinkerhoff, Steve Straehley
To Learn More:
New York City Television Stations Continue Disproportionate Coverage of Black Crime (by Daniel Angster and Salvatore Colleluori, Media Matters for America)
Half of Prisoners Cleared after being Wrongly Convicted are African-American (by Noel Brinkerhoff, AllGov)