Half of Prisoners Cleared after being Wrongly Convicted are African-American
Thursday, January 29, 2015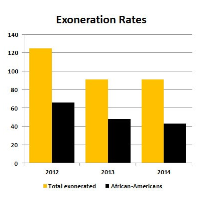 (graphic: Steve Straehley, AllGov)
Of the 125 prisoners who were released from prison throughout the United States last year after the criminal justice system determined they were wrongly convicted, more than half were African-American.
The National Registry of Exonerations reported that 66 of the 125 inmates who were exonerated in 2014 were black, with 50% of those being freed following murder convictions. Six of those exonerated, all African-Americans, were on Death Row. One jurisdiction—Harris County in Texas—accounted for 33 of the exonerations, with all of those former inmates convicted of drug crimes.
The high rate of African-American exonerations is consistent with previous years' totals. Since 1989, 1,536 people have been exonerated and 715 were black. "This can be attributed to the fact that there are more African-Americans in the U.S. prison system than any other race group," Carimah Townes wrote at ThinkProgress. African-Americans make up only about 13% of the U.S. population at large, but about 43% of the prison population.
Last year had the highest overall number of exonerations. The previous highs came in 2012 and 2013, when 91 were freed.
-Noel Brinkerhoff
To Learn More:
Exonerations in 2014 (National Registry of Exonerations) (pdf)
6 Death Row Inmates Were Exonerated In 2014. All of Them Were Black. (by Carimah Townes, ThinkProgress)
Texas Leads the U.S. in Compensating Wrongly Convicted; 21 States Say "Sue Us" (by Noel Brinkerhoff and Steve Straehley, AllGov)
Exonerations of Americans Wrongly Convicted of a Crime Hit Record Number (by Noel Brinkerhoff, AllGov)
Report Catalogues Exonerated Americans who Served more than 10,000 Years in Prison (by Matt Bewig, AllGov)