New Sex Drug is Definitely not "Viagra for Women"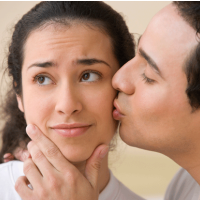 (photo: Jose Luis Pelaez Inc, Getty Images)
After decades of men getting their "sex drugs" approved by the government, women finally got one of their own. Sort of.
The announcement this week that the Food and Drug Administration (FDA) had approved the female sexual-dysfunction drug Addyi (generic name flibanserin) was characterized by many as "Viagra for women."
That characterization is very misleading, owing to the fact that Addyi has a completely different approach than Viagra and other pills developed for men's sexuality. Viagra, Cialis, and others address increasing the blood flow to the penis. They do not increase libido in men. Addyi is supposed to help women with low libido, or Hypoactive Sexual Desire Disorder, which is defined as "persistently or recurrently deficient (or absent) sexual fantasies and desire for sexual activity" in either gender, according to The Atlantic. Rather than affecting women's genitals, which are typically not the source of the problem, it is designed to alter their brain chemistry by rebalancing the neurotransmitters with the goal of increasing sexual desire.
National Consumers League executive director Sally Greenberg called Addyi "the biggest breakthrough for women's sexual health since the pill." But the evidence appears to cast doubt on that claim.
Testing of the drug showed only modest results in accomplishing the drug's mission of improving female sexual desire. Its effectiveness rate was between 8% and 13%, while causing "side effects like fainting, dizziness, and low blood pressure, many of which were found to be exacerbated by alcohol and hormonal contraception," The Atlantic's Cari Romm reported. (The effect of alcohol on use of the drug wasn't even properly tested on women, since 23 of the 25 test subjects were men, he noted.)
It's not the first time that Addyi scored low in fulfilling its manufacturer's promises. The drug was originally created to act as an anti-depressant, but it was found to be ineffective for that purpose. So it was decided to instead promote it as a cure for low female sexual desire.
Addyi didn't make it to market easily. Its maker, Sprout Pharmaceuticals, had to ask the FDA twice for approval, and that was before Sprout bought the drug from Boehringer Ingelheim, which also had Addyi rejected by the FDA in 2010. That was after Boehringer repositioned the drug from being an anti-depressant to a female libido booster.
Two days after Addvi was given the green light by the FDA, Sprout was promptly purchased by Valeant Pharmaceuticals International for $1 billion. Sprout, which had been formed in 2011 by the owners of Slate Pharmaceuticals for the sole purpose of acquiring Addvi from Boehringer, was courted by a number of companies in the run-up to the FDA approval. Sprout claims it went with Valeant, in part, due to its promise to retain Sprout's staff of 34 employees.
So why did the FDA change its mind and finally approve Addyi? "The most obvious answer is good public relations," Romm wrote. Indeed, the advocacy group Even the Score—a coalition of nonprofits and healthcare companies, including Sprout—which formed for the purpose of lobbying for the drug's approval, made a big push at the FDA, framing the issue as one of "women's sexual health equity."
Prospects for the Addyi's success are questionable at best, according to John LaMattina, former head of R&D for Pfizer, the manufacturer of Viagra. Due to the number of side effects, "many physicians will be hesitant to prescribe this drug," he wrote at Forbes.
Addyi's packaging features a bold warning about its potential dangers, and doctors are required to watch an online informational video and pass a test that proves their understanding of the possible ramifications of taking the drug, according to The New York Times.
"Even after a doctor might prescribe it, paying for Addyi becomes another major hurdle," said LaMattina. "…Its annual cost [is] close to $5,000/patient. Insurance companies may not be willing to reimburse patients this amount of money for a drug that provides a modest benefit for the majority who take it."
The prediction of New York University School of Medicine sex therapist Leonore Tiefer: "It's going to be more trouble than it's worth," she told the Times.
-Danny Biederman, Noel Brinkerhoff
To Learn More:
Why Flibanserin Is Not the 'Female Viagra' (by Cari Romm, The Atlantic)
You Can Call It The 'Female Viagra', But The Libido Pill, Addyi, Won't Come Close To Viagra's Impact (by John LaMattina, Forbes)
Here's How That New Sex Pill for Women Actually Works (by Diane Kelly, Throb)
F.D.A. Approves Addyi, a Libido Pill for Women (by Andrew Pollack, New York Times)
Maker of Addyi, 'Female Viagra' Drug, Being Sold to Valeant for $1 Billion (by Andrew Pollack and Chad Bray, New York Times)
Why has FDA Approved 26 Sex Improvement Drugs for Men, but None for Women? (by Noel Brinkerhoff and Danny Biederman, AllGov)