New Jersey Motorist Finally Wins Right to Use "8THEIST" License Plate that Officials Found "Objectionable"
Saturday, August 13, 2016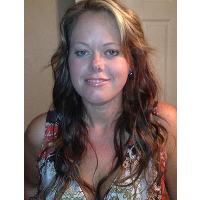 Shannon Morgan (photo: Twitter)
By David Porter, Associated Press
NEWARK, N.J. (AP) — A woman whose request for a vanity license plate reading "8THEIST" was denied two years ago when state officials said it might be considered offensive will now be allowed to display it.
A settlement filed in federal court on Friday resolves a lawsuit filed in 2014 by Shannon Morgan. As part of the settlement, the state Motor Vehicle Commission also will issue the following vanity plates or "combinations that are substantially similar": SECULAR, RATIONL, HUMANST, ATHEISM, GODLESS, HEATHEN, HERETIC, SKEPTIC, BLASFMR, REASON, EVOLVE, TRANS, LGBTR.TS, LGBTQ, PRIDE, QUEER, GAYPOWR, LGBTALY, FEMINISM, FEMINST, EQUALITY and 4WOMEN.
The commission will pay Morgan, who's from Maurice River in Cumberland County, $75,000 to resolve her claim.
"Initially this was an oversight that was corrected immediately," commission spokeswoman Mairin Bellack said. "The plate was and is still available upon request. The (commission) has issued variations of 8THEIST upon proper request."
Morgan's lawsuit said the Motor Vehicle Commission violated her First Amendment rights when its website rejected the 8THEIST vanity plate. She said she received a message stating her request was ineligible as it "may carry connotations offensive to good taste and decency."
Morgan said she then filled out the online application using the phrase BAPTIST, which the website accepted. She said she sent the agency a letter of complaint by registered mail and made several attempts to contact it by phone, all of which went unanswered.
A religious liberty advocacy group, Americans United for Separation of Church and State, based in Washington, D.C., filed the lawsuit on Morgan's behalf.
"All Shannon Morgan ever wanted was for the state of New Jersey to stop disparaging her non-belief and cease treating her like a second-class citizen," said Barry Lynn, the group's executive director. "The lesson of this case is simple: The government should treat believers and non-believers equally."
Morgan couldn't immediately be reached by phone for comment on Friday.
To Learn More:
New Jersey Motor Vehicle Commission Sued for Rejecting "8THEIST" License Plate, but Accepting "BAPTIST" (by Steve Straehley, AllGov)
Judge Rules North Carolina License Plates Unconstitutional (by Noel Brinkerhoff and David Wallechinsky, AllGov)