New Jersey Motor Vehicle Commission Sued for Rejecting "8THEIST" License Plate, but Accepting "BAPTIST"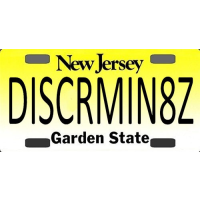 (graphic: Steve Straehley, AllGov)
A New Jersey resident has been allowed to sue the state because its computer rejected her request for a personalized license plate reading "8THEIST."
Shannon Morgan entered 8THEIST into the state's Motor Vehicle Commission website and it was rejected with the message "requested plate is considered objectionable." However when Morgan entered "BAPTIST," she was allowed to continue with the application, according to Thomas Zambito of N.J. Advance Newspapers.
Morgan sued the state last year, claiming a violation of her First Amendment rights, but New Jersey fought the suit, saying the rejection was a result of a computer error and they had agreed to give her the plate she requested. But the state still reserved the right to reject requests based on its judgement of what is offensive. A similar plate application for "ATHE1ST" by David Silverman, the president of American Atheists and a New Jersey resident, was also rejected.
"The commission thus has a practice of denying personalized license plates that identify vehicle owners as atheists, thereby discriminating against atheist viewpoints and expressing a preference for theism over non-theism," stated Morgan's lawsuit.
U.S. District Court Judge Freda Wolfson ruled this week that Morgan's suit against the Motor Vehicle Commission can go forward. "Plaintiff's intention to continue to participate in the personalized license plate program places her within the ambit of the enforcement of the Rule and, thus, qualifies as an alleged future injury, particularly in light of the MVC's initial denial of plaintiff's request, its initial denial of fellow atheist Silverman's request, and its continued classification of the '8THEIST' license plate as offensive on its website," Wolfson ruled.
"This license plate issue may seem like a small matter but it is indicative of a much larger problem—atheists are often treated by the government as second-class citizens," Rev. Barry W. Lynn, executive director of Americans United for Separation of Church and State, said when Morgan filed her suit in 2014.
-Steve Straehley
To Learn More:
An Atheist Just Won the Right To Sue N.J. Over a Rejected Vanity License Plate (by Thomas Zambito, N.J. Advance Newspapers)
N.J. Woman's Rejected Atheist License Plate Violates First Amendment, Lawsuit Argues (by Don E. Woods, South Jersey Times)
Judge Rules North Carolina License Plates Unconstitutional (by Noel Brinkerhoff and David Wallechinsky, AllGov)