New Ethics Rules for New York Lawmakers Said to be Riddled with Loopholes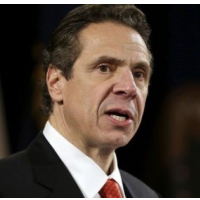 Gov. Andrew Cuomo (AP photo)
Efforts to clean up the New York State legislature through new ethics rules adopted this week have fallen seriously short of what reformers had hoped, leaving loopholes that could still allow ethical violations.
The changes were prompted by the arrest on corruption charges earlier this year of Assembly Speaker Sheldon Silver. He's charged with steering real estate developers to a law firm that paid him kickbacks and of funneling state money to a doctor who referred asbestos victims to a second law firm he worked for.
Silver is only the latest New York legislator to be in trouble with the law. In 2013, some legislators were wearing Federal Bureau of Investigation wires while dealing with their colleagues.
Governor Andrew Cuomo had promised the new ethics measures would clean up the state legislature. But the state's top law enforcement official, Attorney General Eric Schneiderman, told The New York Times: "It is hard to see how these changes in the law will have any meaningful effect on public corruption."
One change requires lawmakers convicted of public corruption to forfeit their pensions. But that's assuming the state's voters approve a constitutional amendment finalizing this rule. Also, the spouse and children of a convicted lawmaker can collect part of the pension if they're not convicted as well.
There are also exceptions to the rule requiring lawmakers who are attorneys to disclose the names of their clients. "Politicians who work for law firms with clients who have business before the state will not be required to disclose the potential conflict except under narrow circumstances such as if the lawyer worked on the client's matter," the Times reported.
The changes also don't address a loophole in state law that permits businesses to give large campaign donations as smaller gifts in an effort to disguise who's giving the money.
Cuomo has made previous statements about cleaning up New York's government. However, one of his efforts, The Moreland Commission, was disbanded after it appeared it would be investigating those with ties to Cuomo.
-Noel Brinkerhoff, Steve Straehley
To Learn More:
Loopholes Seen in New Ethics Disclosure Rules for New York Legislators (by Susanne Craig and Thomas Kaplan, New York Times)
New York Lawmakers Pass Ethics Legislation, But Critics Say the Measure Falls Short (by Nicholas Kusnetz, Center for Public Integrity)
Legislature to Pass Ethics Agreement with Exemptions (by Bill Mahoney, Capital New York)
Georgia Government Ranked Least Ethical in U.S. (by Noel Brinkerhoff and David Wallechinsky, AllGov)