Nevada Chief Justice Complains that State Supreme Court will Go Broke unless Law Enforcement Officers Write more Tickets
Wednesday, March 25, 2015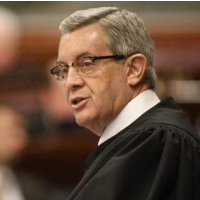 Judge James Hardesty (AP photo)
Nevada's top judge recently had to appear before state lawmakers asking for more money for the state Supreme Court, apparently because law enforcement officers aren't writing enough traffic tickets.
Chief Justice James Hardesty testified before a joint Senate Finance and Ways and Means subcommittee, during which he told the panel that the court needed $700,000 by May 1 or it will be out of money. "Do you want me to close the judicial branch of government at the state level on May 1?" Hardesty said, according to the Las Vegas Review-Journal.
He added that law enforcement is not generating the same amount of revenue from traffic tickets as it once did, and that's robbing the high court of funds for operations. "I'm not faulting law enforcement; either they are understaffed or they have changed policies," Hardesty said. "Now with all due respect to the citizens of Nevada, I don't think anyone is driving better. I think the truth is that we're seeing less traffic violations because law enforcement's priorities have changed and it has changed dramatically." The Review-Journal reported that ticket citations are down 21% since 2010, from 615,267 statewide then to 484,913 last year.
The link between traffic tickets and funding for government agencies is also apparent in other states. In Illinois, speeding tickets and other vehicular violations produce money for the state budget, with very little of the revenue going to local governments where police are operating and giving out the tickets. But with so little of the citation revenue going to cities or counties, there's been less incentive to give out tickets, the St. Louis Post-Dispatch reported.
Compare that to neighboring Missouri. The Show-Me State wants drivers to show them the money, having the second-highest per capita ticketing rate in the country at 36 per 100 residents, according to the Post-Dispatch. New Jersey has a higher rate, but most of its violations are parking-related, which isn't the case in Missouri.
The excessive ticketing is one of the complaints of residents of Ferguson, where teenager Michael Brown was shot and killed by city police last year. That city is projected to bring in more than $3 million this year in fines, thanks to 11,822 tickets being written last year in a city whose population is 21,111. Ferguson's money grab is being helped by judges who sometimes also work as prosecutors and add fines and fees to many cases.
Gov. Jay Nixon earlier this month called on municipalities to eliminate their "profit motive."
-Noel Brinkerhoff, Steve Straehley
To Learn More:
Drop In Traffic Tickets Has Supreme Court Near Broke, Chief Justice Says (by Sean Whaley, Las Vegas Review-Journal)
Lawmakers Look At Creating Pedestrian Safety Zones (by Joe Schoenmann, Nevada Public Radio)
Far Fewer Tickets in Illinois, Where Munis Get Little of the Revenue (by Jeremy Kohler, St. Louis Post-Dispatch)
Ferguson Judge Criticized as Revenue Generator Who Helped Bring in Millions (by Stephen Deere, Jeremy Kohler, Jennifer Mann, St. Louis Post-Dispatch)
Florida Speed Trap Town of 1,000 Filed 11,603 Traffic Tickets in One Year (by Noel Brinkerhoff and Steve Straehley, AllGov)
Judge who Jailed Ferguson Residents for Debt Owes $172,646 in Back Taxes (by Steve Straehley, AllGov)