Florida Speed Trap Town of 1,000 Filed 11,603 Traffic Tickets in One Year
Saturday, September 06, 2014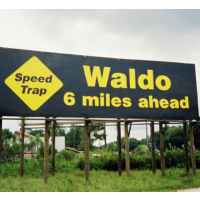 (AP Photo)
It wouldn't come as a surprise if the police officers of the small Florida town of Waldo have developed carpal tunnel syndrome from writing out traffic tickets.
Last year, the seven-person police force for a community of 1,000 residents produced 11,603 traffic citations, according to the Gainesville Sun. About half the town's $1 million budget comes from court fines.
For comparison's sake, the newspaper noted that Gainesville, with a population of 128,000 people and a force of 300 officers, wrote out 25,461 citations in 2013.
"Waldo has long had a reputation as a speed trap, and it's no wonder," Jason Dearen wrote for the Associated Press. "A small segment of highway that runs through Waldo requires drivers to speed up and slow down six times: 65 mph becomes 55 mph; 55 becomes 45; then goes back to 55; then back down to 45; to 55 again and eventually, 35 mph."
The Florida Department of Law Enforcement says it will investigate charges by Waldo officers that Police Chief Mike Szabo and City Manager Kim Worley ordered them each to write 12 tickets during each 12-hour shift. Florida has a law against ticket quotas, but there's no penalty for breaking the law.
Szabo was suspended August 12 in connection with the investigation. Worley appointed Cpl. Kenneth Smith as interim chief, but he too was suspended for improperly handling evidence.
The AAA has listed Waldo, along with nearby Lawtey, as the two worst speed traps in the United States. The Auto Club has even erected billboards outside the towns warning motorists to watch their speed.
-Noel Brinkerhoff, Steve Straehley
To Learn More:
Infamous Speed Trap Town Investigated over Tickets (by Jason Dearen, Associated Press)
FDLE Plans Full-fledged Inquiry into Waldo Police (by Arek Sarkissian, Gainesville Sun)
Waldo Chief could Face Felony Count for Recording (by Arek Sarkissian, Gainesville Sun)
Is This the Most Corrupt Town in the U.S.? (by Noel Brinkerhoff and Danny Biederman, AllGov)
Infamous Speed Trap Town Eliminates Entire Police Department (by Matt Bewig, AllGov)