N. Carolina Republicans Accused of Filing Election Rules that Suppress Black Vote as Overturned Election Law Did
Wednesday, August 31, 2016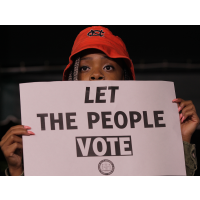 (photo: Ted Richardson, Washington Post via Getty Images)
By Michael Wines, New York Times
FAYETTEVILLE, N.C. — When a federal appeals court overturned much of North Carolina's sweeping 2013 election law last month, saying it had been deliberately designed to discourage African-Americans from voting, something else was tossed out as well: the ground rules for this year's elections in a critical swing state. In each of the state's 100 counties, local elections boards scheduled new hearings and last week filed the last of their new election rules with the state.
Now, critics are accusing some of the boards of staging an end run around a court ruling they are supposed to carry out. Like the law that was struck down, they say, many election plans have been intentionally written to suppress the black vote.
It is a charge that Republicans, who wrote and passed the 2013 law and control all 100 county election boards, reject.
"Purely bogus," Robin C. Hayes, the state Republican Party chairman, said Tuesday in an interview. "In fact, we're working hard to increase the vote from every region and from every interest group. And by the way, no great surprise: We want them to vote Republican."
Politics is a contact sport, he added, and no one should be surprised that Republicans and Democrats alike try to stage elections on terms that favor their party.
Some voting-rights advocacy groups — and some Democrats, who are contesting the rewritten election plans — roundly disagree.
"It is equal to voter suppression in its worst way," said Courtney Patterson, the sole Democrat on the Lenoir County elections board.
He was referring to a proposal by the board's two Republican members to allow 106.5 hours of early voting before the Nov. 8 election — less than a quarter of the time allowed in the 2012 presidential election — and to limit early balloting to a single polling place in the county seat of a largely rural eastern county that sprawls over 403 square miles.
In a county where Democrats outnumber Republicans by better than 2-1, and 4 in 10 voters are black, the majority Republican election plan limits voting to one weekend day.
To Learn More:
Courts Scramble to Rule on Challenges to Restrictive State Voting Laws before November Election (by Sarah Smith, ProPublica)
North Carolina's Messy Voting Laws Restrict Voting and Support Gerrymandering (by Steve Straehley, AllGov)
Federal Judge Supports North Carolina Voter Restrictions (by Noel Brinkerhoff and Steve Straehley, AllGov)
North Carolina Latest State to be Sued by Justice Department Over Voter ID Law (by Noel Brinkerhoff, AllGov)