More than 700 Chefs and Restaurant Owners Push Congress to Label Genetically Modified Foods
Friday, December 05, 2014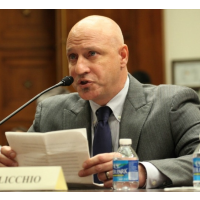 Chef Tom Colicchio testifies before Congress (photo: House Committee on Education and the Workforce Democrats, flickr, cc)
Hundreds of chefs from around the United States have banded together to demand that Congress require labels on food containing genetically modified organisms (GMO).
Approximately 700 chefs signed a petition given to lawmakers that supports a bill mandating GMO labeling. The legislation, introduced by Senator Barbara Boxer (D-California) and Representative Peter DeFazio (D-Oregon), would also block attempts at the federal level to undermine state efforts to require labeling for GMO foods.
The chefs signing the petition include Tom Colicchio, José Andrés, Art Smith and Sam Talbot. Others helping to lobby Congress were Morgan L'Esperance, Kyle Bailey, Danielle Vogel, Brad Race, Travis Olson, Alex Young, Cathal Armstrong, Luke Zahm, Scott Drewno, William Dissen, Michel Nischan, Andrea Reusing, Hugh Acheson, Jamie Leeds, Brian Johnson, Micheline Mendelsohn, Blake Backman and Cathy Whims.
The petition states: "As chefs, we know that choosing the right ingredients is an absolutely critical part of cooking. But when it comes to whether our ingredients contain genetically modified organisms, we're in the dark. It's time for Congress to move us forward, not backward, when it comes to our right to know what's in our food."
The chefs' initiative was backed by advocates from Food Policy Action, Environmental Working Group, Center for Food Safety and Just Label It, among other groups.
Violet Batcha, communications and social media manager for Just Label It, said polls show 93% of Americans support transparency efforts to expose which food products contain GMOs.
-Noel Brinkerhoff
To Learn More:
Out of the Kitchen and On Capitol Hill: Chefs Speak Out for GMO Labeling (by Deirdre Fulton, Common Dreams)
Prominent Chefs Serve Up a Message to Congress: Label GMOs (Environmental Working Group)
Americans Overwhelmingly Want GMO Labeling…Until Big Companies Pour Money into Election Campaigns (by Noel Brinkerhoff, AllGov)
Big Food Companies Push to Label Genetically Modified Products as "Natural" (by Noel Brinkerhoff, AllGov)